Save Our Stained Glass Windows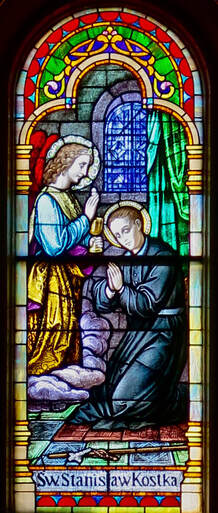 Dear Friend!
​
In June of 2019 we kicked off a fundraising campaign for the repair and restoration of our church's stained glass windows. Estimates are in excess of $300,000 for this restoration project. It is not just a beautification project. These repairs are integral to the structural integrity of this St. Louis Landmark.

Our church building is considered the best example of opulent Polish cathedral style architecture west of the Mississippi River. It was designated a City Landmark in 1976 and added to the National Registry of Historic Places in 1979.

Michael Olszewski of St. Louis created our stained glass windows in 1928, labeling all the saints in Polish. In the apse, Ludwik is Louis IX, Elzbieta is Elizabeth of Hungary, Jadwiga is Hedwig, Kazimierz is Casimir, and Jacek is Hyacinth. On the right side we see St. Anne, a second St. Stanislaus, bishop of Cracow in the 11thcentury. Carmelite nun Therese of Lisieux, the Little Flower, and St. Ambrose of Milan. On the left, south side, there is St. Joseph, St. Wojciech-Adalbert, St. Vincent A'Paulo, and St. Pope Pius X. The rose window above the choir loft shows St. Cecilia playing an organ framed by the actual organ pipes. She is accompanied by St. Pope Gregory I and King David. Two central triptych stained glass window sets facing each other represent the Transfiguration of Christ and the Assumption of Mary.
---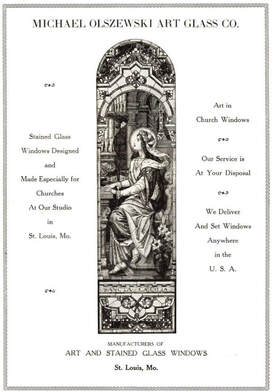 There is such overwhelming beauty in these stained glass windows that depict many of the major events in our Catholic History. Artistry of this caliber is rarely found in churches today.

We are a small parish of less than 300 families. The oldest Polish Catholic Church in Saint Louis, we have survived many obstacles over the years including the loss of our identity as a Roman Catholic Church and finally the loss of parishioners. But through it all, Saint Stanislaus has survived as a symbol of Polish immigration and achievement in America as a welcoming, inclusive, Independent Catholic Church.

But now, we need your help. Please help us to repair and restore these exquisite examples of early 20th Century Art. With your help we can succeed in saving these windows and our church building for the generations to come as a testament to the integral part Polish Immigrants played in the history of our City and Nation. We are hoping that after reviewing this statement and photographs of our stained glass windows that you will consider donating to our Fundraising Campaign.

There are three ways to donate:

1) Online by clicking the "Donate" button below. Please reference "Windows"
---
2) A check made payable to St. Stanislaus Restoration Fund. In memo portion please write "Windows" and mail to:
St. Stanislaus Church
1413 N. 20th Street
St. Louis, MO 63106

3) Collection Basket during any Mass. Reference "windows" on your check or envelope.
​
Thanking you in advance for your generous consideration of this fundraising campaign. Please remember that we are a qualified 501 (c) (3) tax exempt organization under Internal Revenue Code section 170 and all donations are tax deductible to the fullest extent allowed by law.

The Board of Directors
St. Stanislaus Kostka Polish Catholic Parish