Our Pastor, Fr. Marek Bozek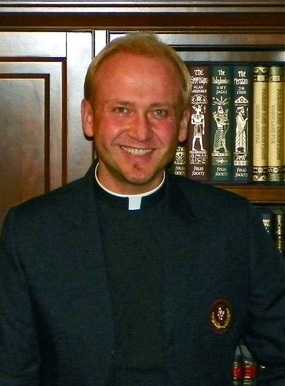 Born and raised in Poland, Fr. Marek moved to the USA in 2000 and was ordained a Catholic priest in 2002. For three years, until December 2005, he ministered in Springfield - Cape Girardeau Roman Catholic Diocese. Besides many obligations as a parish priest, he also served as Police and Sheriff Chaplain, was responsible for Hispanic Ministry and high school chaplaincy.
St. Stanislaus Parish, having been abandoned by its priests and archbishop for almost two years, called Fr. Marek on December 2, 2005 to be its pastor. He accepted that call, for which on December 17, 2005 he was excommunicated by then the Archbishop of St. Louis, Raymond Burke. Despite Archbishop's many efforts to intimidate the good people of St. Stanislaus and other Catholics in St. Louis Metro area, our Parish has been continuously growing ever since. It has become a place where all God's children find their spiritual home and nourishment. Polish hospitality and Catholic - universal character of our faith have created a wonderful environment where God's Word is heard and God's Love is experienced!
On March 9, 2009 Fr. Marek was informed of his "laicization", as yet another penalty for following the voice of the People of God rather than that of the hierarchy. Despite that difficult situation his priestly ministry continues, valid Catholic sacraments are being offered, and lives are touched and healed by God's Spirit. On March 15, 2012 along with all St. Stanislaus Parishioners, Fr. Marek celebrated a big legal victory: after 18 months of legal wrangling and more than two years after the trial, Judge Hettenbach ruled in favor of of St. Stanislaus and against the Archdiocese of St. Louis. Our Parish continues to attract new members from all age groups, ethnicities, and paths of life.
Here
you can read more about the conflict between our church and the Archdiocese of St. Louis.
St. Louis Mag interview with Fr. Marek
New York Times article from August 13, 2010
National Catholic Reporter article from February 22, 2008
New York Times article from March 17, 2012
Washington Post article from March 20, 2012
St. Louis Beacon article from March 15, 2012
---