Weddings at St. Stanislaus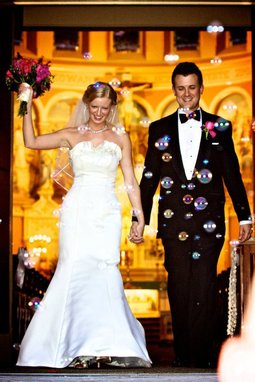 Marriage is a living, sacred covenant between two people which includes but also extends beyond the exchange of vows to the entire life of the conjugal relationship. This covenant is sacred because the love between the couple participates in the love between Christ and His Bride, the Church. Its sacredness is also attested to by the fact that it helps the partners and those who know and love them to reach their fulfillment of life with God.

When celebrated between Christians, we believe marriage is a sacrament which, in signifying the love between Christ and His Church, actually makes that Divine Love (Grace) present for the benefit of those married and all who know and love them.

There are two purposes of marriage. One is mutual love and support, which is a generous gift of the physical, emotional, intellectual and spiritual self to a partner. This beautifully passionate and committed love for one another is a source, together with God's Grace, for the other equally significant end of marriage which is the generous outflow of love from the couple to other human beings. Enriching new life can find its expression in good works among the members of the community of the Church and especially for the poor and needy of our society. This second purpose of marriage is also powerfully evident when a couple allows its love to overflow into the life of a biological or adopted son or daughter. The key word used in the descriptions of both purposes of marriage is "generous." It is in giving, not taking, that Christians receive the most joy from marriage.

Those who seek marriage should understand that the relationship is a living covenant to be entered into without any conditions affecting the consent of the individuals. The two properties of this covenant are exclusiveness and permanence. If a marriage commitment is exclusive, it means that the married couple fully intend to reserve the beautiful intimacy of their relationship to one another alone. If it is permanent, the married couple intend to enter a bond that will last a lifetime. In the event that the relationship does not last a lifetime, the church will be there to welcome you with open arms, to assist you with healing, and to offer you the opportunity of a second chance. If your faith makes you ready to celebrate the joys and responsibilities of Christian marriage, then we are ready to assist you in the preparation and planning of your Wedding Ceremony.

---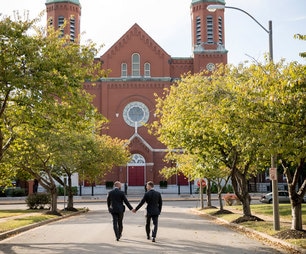 The choice of location for your wedding is yours. Depending on weather and other factors ceremonies may be held out-of-doors. You may hold your wedding at St. Stanislaus, or arrange to use another church or chapel. Hotels, banquet halls, private homes, museums and other locales are other options. We will be pleased to assist you in personalizing your wedding ceremony. There are many ways in which this can be accomplished. Options for readings, both from the scriptures and other sources, which speak to marriage are available. Vows can be written by you or chosen from more traditional options. Ceremonies that speak to various ethnic groups such as the coin, rope and veil, hand fasting or jumping-the-broom ceremonies can also be accommodated. Unity candles, roses to parents and other more traditional activities can be easily included. Discussing your wishes with your priest is the best way to assure that your day is special.

Those entering into second marriages, those experiencing religious differences with some churches, and others will find openness and acceptance here. We provide marriage services in a compassionate manner. Perhaps you have concerns about perceived barriers? We treat you with the same care Christ gave to all who came to him. Because St. Stanislaus is an inclusive community, all baptized people participating in the ceremony are invited to the altar for communion, regardless of religious affiliation. Wedding ceremonies can also be celebrated outside of the Mass.
---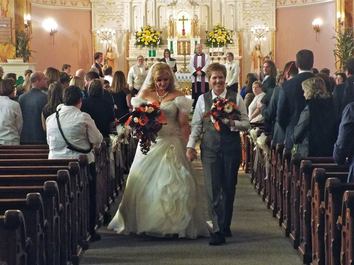 Please, contact us to make an appointment to visit us at our parish office. A member of our staff will be happy to answer any questions you may have and, if you desire, take your information. If you reach our voice mail, please speak slowly and clearly and we will return your call as soon as possible. Our phone number is 314.421.5948 and email address is
office@saintstan.org
Current fees for a church wedding ceremony are $600.00 for Parish members and $1,100.00 for non-members. Couples hosting their wedding reception at the
Polish Heritage Center
(adjacent to our church) receive a discount of $300.00. Those who are interested in a wedding in some other suitable location should
contact our Pastor
to request more information.
---