Reflection for April 2018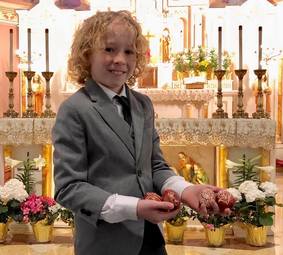 Lent was such a powerful season of pilgrimage through the desert, calling us to return to God with our whole hearts. We arrive at Easter eager to celebrate the reality of new life out of death, but sometimes we forget this is another, even longer season, rather than a single day of celebration. What does 50 days of practicing resurrection look like? What would it mean to embark upon another pilgrimage to the heart of our own creativity in collaboration with the Great Artist at work, the one who brings newness from the old and discarded?

The story of Easter morning is such a story of surprise and complete reversal of expectation. Mary Magdalene, and then two other disciples go very early to the tomb only to discover Jesus' body is missing. They are deep in grief, then confused, and perhaps even angry that the body has been moved. Like all threshold moments of our lives, there is a powerful call here. Where you expect to find death you suddenly discover the evidence that death is gone. Where you expect to discover the broken body in the tomb, you encounter the One who has been transformed, but do not recognize Him right away.

The Risen Christ appears to Mary but she does not see Him at first. In her grief she holds powerful assumptions about what has happened. She grasps onto an image of her beloved friend which no longer matches the reality. This encounter is Mary's moment of call as Christ sends her to bear witness to the disciples. She is being ushered on a new pilgrimage. The trajectory of her life is altered by this moment. I am captivated by the image of pilgrimage as a metaphor for our human journeying. Not just the physical journeys we make to outward places, but to the interior places of the heart, the new landscapes we are called to explore. Can we allow our own trajectories to be oriented in a new direction?

Often the call arrives to our own lives unbidden. Something happens which we did not expect and we need to shift our perspective to open our eyes to this new possibility. Sometimes it is an unwelcome event like death or illness. Sometimes we seek out a new adventure in our lives. Either way, a threshold is a liminal space, meaning in between places of security and knowing. On the threshold we are called to release what we thought we knew and our desire to control what is to come. It is an incredibly vulnerable place to be. Christ tells Mary, "Do not hold onto me." Do not grasp at this new wonder. Continue your pilgrimage with open palms. Be ready to receive the gifts being offered. Know that your life direction may take you somewhere unexpected... I am reminded of one of my favorite stories of the Irish saints. It is said that St. Kevin was praying with arms outstretched and palms open each day. On one morning a blackbird lands in his palm and starts to build a nest. Rather than grasping or withdrawing his hand, he holds it up for the days or weeks it takes for this new life to be hatched. He received the gift offered to him, no matter how uncomfortable. He said "yes" to what had arrived into his life unbidden.

The call of Easter is this simple invitation: to step forth across the threshold, to release all you thought you know, to hold your palms open, to say yes to what comes. Do not hold too tightly to what you think the outcome should be. Let yourself be surprised. Release your expectations and be turned inside out. It is in the places of profound unknowing that we let ourselves enter into Mystery. The resurrected life is at heart a great and mysterious process. It is not something we can understand on logical terms, it is only something we can live into and experience.

One way to practice this is by making a commitment to a creative practice. I like to describe both art-making and gardening as pilgrimage. When we step into creating without agenda or plans, it is a process that leads us on a journey of discovery. We must lean into the threshold place of not knowing how something will turn out. We must risk being vulnerable. Creativity - like gardening - can teach us to step into the threshold, hold ourselves open, and receive what arises (rather than what we think should happen). It is a powerful way to practice resurrection of daily life. You do not need to travel far outwardly to make this kind of pilgrimage.

Fr. Marek

---
Pastor's Reflection for March

For Lent, I am repenting. And, as a thinking and thoughtful Christian, I am also reclaiming repentance. For a number of people, the notion of repentanc often brings to mind fire-and-brimstone preachers at Lenten retreats or revivals, thundering about the hellish fate of the unsaved, and the subsequent teary-eyed confessions, or altar calls. There is a long tradition of this in Christianity. While it might be historic in some respects, it does not really have much to do with repentance. Often, though, we think of repentance in those terms, understanding it as simply saying, "I'm sorry," to God and those around us. It is part of confession and forgiveness, of course, but one can be sorry without ever engaging in repentance. That's because repentance is not a momentary instance of remorse and forgiveness, but rather a journey of transformation. It is about enlightenment, being transfigured through restoring and deepening our union with God and others. It is about seeing the world as it might be, where hate, injustice and violence are no longer. It is about seeing swords shaped into plowshares. Repentance is about hope, not fear.

Indeed for all of its warping by many hell-obsessed Christians, repentance is something that thoughtful Christians have been talking about for decades. We often speak the language of repentance, but call it by a different name. We call it being prophetic. Or speaking truth to power. Or bending the arc of justice. But what we are truly doing is calling for repentance, for transformation, for a generative movement forward into the Reign of God.

It would be a mistake, in my mind, to think of repentance as turning around on the path, backtracking and attempting to start over at the place where we perceive everything started to go wrong. It would be a mistake to think of repenting as returning to the way things used to be. Thinking of repentance in such conservative terms misses the point. Because that is not repentance. Rather, that is nostalgia. And it's also a fiction. Rather than calling us to go back to a simpler time, repentance beckons us further and deeper. It is progressive, rather than regressive. If we are lost, repentance is not about pulling out a compass and searching for the original trailhead. Instead, repentance is waiting to be found and then discovering that we have been found all along. For God is already with us in the middle of the path we are on, no matter how thorny, steep or mired it is. Repentance helps us to see where God already is. It helps us get past that heresy of believing God would quit loving us.

Repentance is the journey, the process of seeing that God has made holy the ground - whatever ground - we find ourselves on. Seeing God where we are changes us, too. It gives us that new mind, that new way of seeing and thinking and believing about the world that is the hallmark of true repentance. Suddenly there is hope for the future - not just my future, but for our future. Suddenly there is good news, and the revelation that we are that good news in the world. In repentance, we are called to action as God's holy and creative agents in the world to stand against injustice, hatred, fear and the malevolence of prosperity-at-all-cost.

And it is not primarily an individual experience. Repentance is corporate and systemic, calling us not only to examine ourselves individually but to examine our society, how we live and what evils we may be participating in. Certainly we do wrong as individuals. Certainly we sin as individuals. Certainly we are to restore our personal relationships with those around us. But this is but a small portion of what God calls us to see with a new mind. This systemic, community-oriented understanding of repentance is also very much mindful of the evil done on our behalf. As Christians in the most powerful and one of the most violent countries on the planet, this last one should pierce us. There is so much evil done on our behalf. Capital punishment. Oppression of the poor, immigrants, people of color. Globalized greed and sweatshop labor. The abuse and exploitation of the environment for financial gain and our financial ease. Racial injustice. Environmental injustice. Injustice anywhere is a threat to justice everywhere, King once said, and his words ring true. For, in today's world, injustice isn't just anywhere. It's everywhere. We are complicit. We have left good undone.

As Americans, particularly if we are white, we confess this evil done on our behalf, but what comes next is the hard part: repentance. Changing. Walking this path we are on, but walking it. Walking further into this wilderness of over-consumption that feeds on the souls of the poor and the beauty of creation. Walking in contrition, with God in us, with us, around us. Being called to something transformational. How do we repent of this evil done on our behalf? We must do it together. In fact, we can only do it together. Otherwise, it would overwhelm us. So I pray that this Lent, our churches will be communities of true repentance, true transformation and true hope.

Fr. Marek

Pastor's Reflection for February
In the attempt to widen my horizons, I have been trying to familiarize myself with the field of astrophysics. Armed with Neil deGrasse Tyson's book "Astrophysics for People in a Hurry" I attempted to follow his train of thought through a humbling and headache-causing tour of our seemingly infinite universe ("cosmos" in Greek). Here I need to stop and correct myself, as the cosmos really is not infinite. If the universe had an infinite past and was infinite in extent, the night sky would be completely bright – filled with the light from an infinite number of stars in a cosmos that had always existed. However, as we all know, the night sky is dark instead. When we look up at the sky above us we are seeing events that happened in the past – it takes light time to reach us.

For a long time scientists, including Albert Einstein, thought that the universe was static and infinite. Observations have since shown that it is in fact expanding, and at an accelerating rate. As a matter of fact, it was a Belgian priest and physicist, George Lemaître, who gave us the wondrous concept behind the Big Bang (theory, not the TV show). Fr. Lemaître proposed that the Universe has expanded from a primordial dense initial condition at some time in the past (currently estimated to have been approximately 13.7 billion years ago), and continues to expand to this day. This model has been revised, refined and scientifically established to a point that any other theory of the origin and existence of the universe has become harder and harder to defend. What we know from the most recent scientific evidence is that the universe is not the universe of Mr. Einstein anymore, it is not infinite, it is finite, it started at some point. In fact, if we look for light that is old enough we can even see the relic radiation from Big Bang – the cosmic microwave background (do "google" it please!)

As I was trying to unpack the question of the basic properties of space and time, a thought crossed my mind today that I can not let go of: it took a virtual eternity to get to me, to you, to our present lives!

We think of eternity as a thing of the future. "Where will you spend eternity?" billboards and bellicose Bible-thumpers ask. Much religion is based on this premise. "Squandering eternity" has come to mean giving up heaven, an everlasting future with God. But the only eternity we "know" is in the past, the billions of years it took to form the universe, solar systems, planets, inhabitable planets, life, and the forms of life those planets host today.

Eternity has brought us to this moment, the breath I take as I write this, the breath you take as you read this. Squandering eternity is not living up to this moment, not being fully mindful of it, not reverencing all that has come into balance, into play, to make this moment "work," to create this eco-sphere in which we live and move and have our being, to evolve my/your consciousness to reflect its magnificence. Much of our lives is denial and distraction. We fill our moments rather than letting them fill us. We are occupied with our pasts and preoccupied with our futures.

The founder of the Jesuits, Saint Ignatius of Loyola, believed that, in the Final Judgment, God will not ask what we did not do, but rather, "How much of my creation did you not enjoy?" Given our current displays of xenophobia and environmental arrogance, we could ask ourselves, how many of God's creatures do we not enjoy? And, given various inequalities, how much enjoyment is being denied others?

"The butterfly counts not months but moments, and has time enough," Hindu poet Rabindranath Tagore wrote. While butterflies are too delicate and ephemeral to touch, I have learned to pray while cuddling pets. What better thing can I do with this moment than allow the cat or dog to sit on my lap and nuzzle me and let me rub her belly and talk to her? When I marvel at the perfect ears, the intricate patterns of color in her fur, and the eyes that look straight into mine, my soul is doing good work, even prayerful work.
​
Saint Ignatius defined sin as anything that blocks the love that God is trying to share with you, or blocks your love for God. And for Ignatian spirituality, God is part of everything. To Ignatius, what bothers God is not our being fully human, but our trying to be God. Let God be eternal. Take this moment to wonder what you have come to be after all this time.

Fr. Marek

Pastor's Christmas Reflection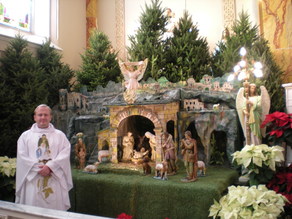 When we, people living in the 21st century, listen to all the beautiful (and very sweet) Christmas carols, or read the Christmas stories from the Bible, doubt and skepticism are often a natural reaction. In this post-modern era, overloaded with detailed and constantly updated information from every corner of our ever-shrinking globe, we can be easily justified to ask whether we are listening, and retelling fairy tales from long ago. Stars – after all - do not announce the birth of a human being. Angels do not sing to hillside shepherds. Virgins do not conceive and give birth. Is there something behind this old mythology that our very modern world is missing? Are we still able, with any integrity, to refer to Jesus as the son of God?

It was more than two thousand years ago that the historic figure we call Jesus lived. It was a life of relatively short duration, only thirty-three years. At most only three of those years were devoted to a public 'career'. Yet, that life appears to have been a source of wonder and power to those who knew him. Tales of miraculous power surrounded him. Words of insight and wisdom were believed to have flowed from his lips. Love and freedom seemed to be qualities that marked his existence. Men and women found themselves called into being by him. Those laden with guilt discovered, somehow, the joy of forgiveness in him. The alone, the insecure, the warped and twisted found him to be a source of peace. He possessed the courage to be who he was. He is described in terms that portray him as an incredibly free man. Lives touched by his life were never the same. Somehow life's secret, its very purpose, seemed to be revealed in him. When people looked at him they were somehow able to see beyond him, and even through him. They saw in his life the Source of all life that expanded them. They saw in his love the Source of love and the hope of their own fulfillment. This kind of transforming power was something they had not known before.

Is it any wonder that people had to break the barriers of language when they sought to make rational sense out of this Jesus experience? They called him the Son of God. They said that somehow God was in him. So deeply did people believe these things that the way they perceived history was changed by him. To this day we still date the birth of our civilization from the birth of this Jesus. They believed that he was able to give love and forgiveness, acceptance and courage. They believed that he had the power to fill life full. When they began to write about this transforming experience they confronted a problem. How could the human mind, which can only think using human vocabulary, stretch far enough to embrace the God presence they had experienced in this life? How could mere words be big enough to capture this divine meaning? Inevitably, as they wrote they lapsed into poetry and imagery. When this life entered human history, they said, even the heavens rejoiced. A star appeared in the sky. A heavenly host of angels sang hosanna. Judean shepherds came to view him. Eastern Magi journeyed from the ends of the earth to worship him. Since they were certain that they had met the presence of God in him, they reasoned that God must have been his father in some unique way. It was certainly a human reference but that is all we human beings have to use. Life as we know it, they said, could never have produced what we have found in him. That is why they created birth traditions capable of accounting for the adult power that they found in him.

The time has come for Christians, when we try to talk about God, to face without being defensive, the inadequacy of human language. These stories were never meant to be read literally. They were written by those who had been touched by this Jesus. That is why they challenge our imaginations and sound so fanciful and unreal. Our minds are so earthbound that our imaginations have become impoverished. Literal truth has given way to interpretive images. When life meets God and finds fulfillment one sees sights never before seen, one knows joy never before experienced, and one expects the heavens to sing and dance in celebration.

The story of Christmas, as told by two of the gospel writers, has a meaning beyond the rational and a truth beyond the scientific. It points to a reality that no life touched by this Jesus could ever deny. The beauty of our Christmas story is bigger than our rational minds can embrace. For when this Jesus is known, when love, acceptance, and forgiveness are experienced, when we become whole, free and affirmed people, the heavens do sing "Glory to God in the Highest," and on earth there is "Peace and Good Will among Us All." Hence, we Christians rejoice in the transcendent beauty and wonder of this Christmas story. To those who have never stepped inside this experience we issue an invitation to come stand where we stand and look through our eyes at this babe of Bethlehem. Then perhaps they too will join those of us who read these Christmas stories year after year for one purpose only: to worship the Lord of life who still sets us free and who calls us to live, to love and to be all that we can be. That is why the Christmas invitation is so simple: Come, come, let us adore him.

How do we adore him? In my mind the answer to that query is clear: not by becoming religious or by trying to convert the world to my understanding of Jesus. I adore him rather by dedicating my energies to the task of building a world where everyone in this world might have an opportunity to live more fully, love more wastefully and have the courage to be all that they were created to be.

Fr. Marek

---
Pastor's Reflection for December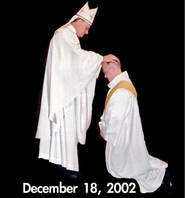 This month I will celebrate 15th anniversary of my priestly ordination. Fifteen years a priest! I can say it out loud: They have been good years; full enough of giving and receiving. I have enjoyed the ministry and have been able to help some people even as I have been helped by others. There have been too some incredibly special moments, depth moments clearly touched by transcendence, and I have also tasted sufficient agony. I have no regrets. My initial fears on entering the seminary had centered around loneliness and boredom. These have been non-issues. The spectres of pressure, over-intensity, and burnout cast a much more threatening shadow. And I have survived, and survived with enough enthusiasm to hoist a few drinks to celebrate the event and to look forward to the future.

My nine years long formation to priesthood was completed at St. Meinrad Seminary in Southern Indiana. I was trained and shaped in countless ways by the monks of St. Benedict who run the St. Meinrad School of Theology. I was lucky to be trained by professors who believed that the pyramid model of Church, which promotes the superiority of the ordained and emphasizes the role of the clergy at the expense of non-ordained, is at the very root of the culture of clericalism. Some of my friends, who studied at Mundelein Seminary in Chicago were exposed to a very different vision of priesthood. In the seminary chapel in Chicago there are seven steps leading to the high altar and on the side of each step is written (in Latin) the respective name of one of the seven Holy Orders (Porter, Lector, Exorcist, Acolyte, Subdeacon, Deacon, Priest). Each step would create an ever-growing chasm between the seminarian and the people. These vestiges of the Tridentine Model of priesthood are powerful symbols of the clerical class. It is part of the ecclesiology that emphasises the ontological change and separation of the ordained from the faithful.

I am convinced that it is time for this exalted model of priesthood to be consigned to the past. Instead, we - the Church - must rediscover the specific and full charism of the sacramental priesthood within the matrix of the universal priesthood of the faithful. The priesthood of the ordained cannot be lived fully apart from the community of disciples. This is one of the key insights of the Second Vatican Council. The Church is not the church of the ordained but of all the baptized. There existed a variety of ministries in the early church. St. Paul bears witness to this when he lists a number of gifts or charisms that Christ gave to the Church for the building up of His body. Yet over the centuries, this richness has been gradually concentrated in the ordained at the expense of the baptised. In effect, the priesthood of the ordained has assumed and usurped the rich and varied ministries of the baptised. It is time, therefore, that the notion of priesthood needs to break open anew, so as to fully honour what Paul says in Ephesians 4 "every one is given grace according to the measure of the gift of Christ".

As I am preparing to enter my sixteenth year of priestly ministry, I am very much aware of the prophets of doom, who tell us that the priesthood is dying. They are ready to write obituaries for an institution so glorious in the past but now hopelessly riddled with crisis. They say this is the end for us. The sexual abuse crisis will be the final nail in the coffin. Perhaps they are right – but only half right. They fail to see the other side of the equation. The Catholic priesthood is only dying to that which is not of Christ. It is dying to worldly trappings, triumphalism, and clericalism; it is rising again to the power of vulnerability, servant-leadership, discipleship of humble service and radical love. The Paschal rhythm of priesthood (Passion – Death – Resurrection) summons me and all other priests to a discipleship of humility, weakness and vulnerability, of dying and rising in Christ.

In the end, though, I firmly believe that we are on the threshold of renewal and transformation of the priesthood. Like the wedding feast of Cana, the wine of old has served the Church well but it is running out. The old way of being a priest has, likewise, well served the Church we love. But that model of the exalted, separated and elitist priesthood is drawing its last breaths – at least in many parts of the world including North America and Western Europe. There is a better wine that the good Lord has prepared for us and we, here at St. Stanislaus, have a real opportunity to live out this refreshed model of being a Church of equals, of sisters and brothers, ordained and lay members ministering side by side. I pray that we all – priests and lay people alike – may be like Mary, who recognizes the end of the old and the beginning of the new era.

Fr. Marek

---
Pastor's November Reflection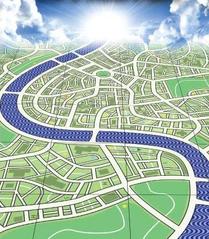 Maps have fascinated me for as long as I can remember. As a child I would spend countless hours memorizing the names of exotic countries, cities, rivers, and mountains – often while hiding with a flashlight under my bed sheets. Surprisingly, in addition to giving me a lifelong hunger for adventures, this fascination has also helped to deal with the age-old conflict, or at least perceived tension between science and religion. Here is how I think of it: imagine you are looking at a map of a city. What do you see?

I bet that most of you imagined something that looks like a road map from your smartphone or GPS navigation system in your car, with the roads, and the names of streets and buildings. That would be an accurate representation of the city. But imagine you are an expert on urban sewage. A map of the exact same area would appear radically different. Sewers and underground power lines would snake across the page with their own coherence and rationale. Roads would no longer necessarily be the defining pathways. A sociologist's map of the same area would reveal different realities yet again: space would be divided according to the age, ethnicity, socio-economic, and political identities of the inhabitants. A historian might create a map of what the city looked like a hundred years ago, reflecting roads and sewage lines in ways that will resemble the contemporary maps, but with important and sometimes irreconcilable differences. Which map describes the true reality that is the city? We can see at once that it is a silly question. All of them describe, in different and imperfect ways, the city. In fact, their various imperfections are vital to their usefulness. A "perfect" map would be in every way identical to the reality and that would not help us understand at all where we were!

Science and religion are both maps to reality. When we were born we entered an infinitely complex reality, and we were offered "roadmaps" to help us navigate reality: cultural, scientific, and spiritual maps that describe the context in which we find ourselves. Each is a simplified representation of a reality that is impossible to completely describe. Ask any theologian to explain what God is really like and––if they are honest––they will say that no one knows what God is really like, only how God has been revealed to us. Ask a scientist what the universe is really made of and they will tell you that we have some small understanding of the 4% of the universe made up of matter, while the rest of the universe remains largely unobserved and unknown. Even in areas where we do know something, and do have real knowledge, both scientists and theologians express themselves with models. Whether we are talking about the Incarnation or electrons, models help us comprehend realities that are too complex for us to understand. They are like roadmaps to reality: they are very useful precisely because they are not the real thing, but a representation of it.

We enter the world with no clear guide and are given different maps by parents, friends, teachers, and the media. Some people will swear by one map or another. Some maps will be better than others for certain types of knowing. Some maps really are terribly wrong, and the sooner they are thrown into the rubbish bin of human knowledge, the better. A few things are abundantly clear: 1) No one map or system of maps perfectly describes reality. Every map is an approximation and a reduction, a model of the real thing. 2) The only way to discover what is real is to read carefully and try things out. See which maps are reliable for which endeavor and which lead to dead ends. 3) Two maps can describe the same reality and show vastly different things and still both be true. A road map and a heat map of a location might look completely dissimilar, but both would tell you something true if you could read them both accurately. It would be silly to call the different maps "non-overlapping." While the maps might describe different aspects of the reality of the city, they certainly have implications for each other. It would be deeply unwise to build a road without first consulting the maps showing underground power lines, for example. A wise investor wanting to open a new shop would certainly consult both a map showing demographics and a map showing traffic flow and parking. Life, then, is an adventure of trying to figure out which maps most accurately reflect our experience of the world. Whether we listen to trusted authorities or whether we explore for ourselves, discovering reality will involve some comparing of maps to each other, comparing maps to our wanderings (is there a building where the map says there should be one?) and listening to people who have traveled further than ourselves. Every endeavor of the sciences, every biblical interpretation, the voices of theologians, philosophers, teachers, and friends all give me new ways to think about God, the world and my place in it. Fear is turned into adventure as competing or discordant models lead to delving deeper into our wondrous reality.

Fr. Marek

---
Pastor's September Reflection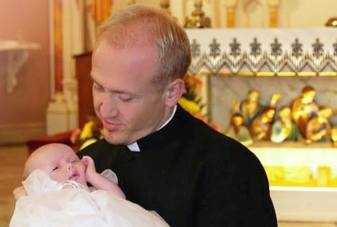 It is my hope that by the time you read these words, we will be as close as possible to having new carpet fully installed in our church. This most recent upgrade to our worship space also gave us a chance to introduce a new, permanent location of the Baptismal Font. In years past, you could have noticed it standing by the "main" entrance to the church. I put the 'main' in quotation marks, because most of our worshippers do not enter anymore through those big, red doors from the street. A vast majority of the people who come to St. Stanislaus these days, park on our spacious parking lot and enter though what used to be a side entrance, which in decades past was used mainly by the priest and his staff. Hence, it is here – right by the most commonly used entrance of the church, that you will see the Baptismal Font.

This placement is not accidental, it serves an important symbolic purpose. In a Roman house, the household's water source was in the atrium just inside the front door. When early Christians converted a house to a church, that water source became the place where baptisms could take place if it wasn't possible to baptize outdoors. Even though the position of the baptistery was determined by the existing architecture of the house, it took on a symbolic meaning, because baptism is the entrance to the Christian life. Because baptism is the means by which we enter the Church, the Body of Christ, it makes good sense to keep the font there as a reminder of this truth. Each week as come for Mass, passing by the font helps us to remember that we are God's baptized people. Since baptism is our entry point into the Church, the family of faith, it makes sense to have the font and perform baptisms at the church's entrance. And thus, as we enter into this space of prayer and worship the first thing many of us will do is to bless ourselves with Holy Water to remind us that we have been baptized into Christ, and have become members of His Body, the Church.

Church architecture, its furnishings, and even our new carpeting is an extension, and expression of our theology. This area of carpeting, which begins in the entrance space around the Baptismal Font continues into the Sanctuary represents a sea, a sea which we must cross through in order to enter into a deeper relationship with God. We must die to ourselves, to the world which vies for our attention and seeks to consume us with all of its allure, excitement and "empty show". We must surrender all of that which holds us back from God, in order to enter more fully into the great mystery of God's presence.

As we move into the pews the flooring turns to wood, which represents the ship which carries us through the stormy waters (Mark 4:37-41). This vessel, this community of people with whom we sit and pray in the wooden pews, is a vehicle by which we are able to traverse the stormy seas of our lives. So long as we have Christ and each other (the Church), we shall never sink (Matthew 14:27-31). As we approach the Altar of the Lord, we re-enter the carpeted area, step back into the sea with faith in Christ, as we are now ready to receive Christ in the sacramental presence of His Body and Blood. In the communion procession we approach the altar area, where carpet tiles are replaced with solid stone. This stone area around the altar is a symbol of the "rock" on which our church, and our faith is build (Matthew 16:18). Here, from that solid ground, come the Words that feed us, and the bread and wine that - transformed into the Body and Blood of Christ – nourish us on the journey of life.

This entire flooring arrangement, the direction of the wood and the carpet all stems forth from Baptism, carries us in the wooden ship of the Church towards the rock of our faith – the living Christ in the Eucharist, sending us out into the world, nourished and filled with grace. Our carpet is more than just carpet; it is a symbol. Our wooden pews are more than just uncomfortable pews; they are a symbol. Our slippery stone around the altar is more than just a stone floor; it is a symbol. Likewise, our faith is more than just faith; it is the living presence of God within our hearts. Let us share it with the world and invite them to enter our space of worship, to enter our hearts and become one in the Body of Christ.

Fr. Marek
---
Pastor's July Reflection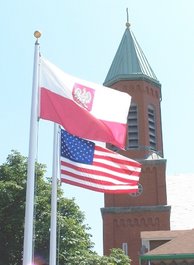 As we celebrate Independence Day and Summer Parish Festival, these two occasions lead us to a deeper appreciation of the spirit of independence and self-governance, on which both this country and this church – St. Stanislaus – are built. Even though many would argue that Catholicism does not embrace nor support democratic system of governance, it is not necessarily true, especially when we talk about the American version of Catholicism. As a matter of fact, there was a powerful movement within the Roman Catholic Church in the United States in the second half of the 18th century that attempted to adapt a European-minded and monarchical Catholicism with the principles of liberal democracy. The ideas of separation of church and state, or freedom of speech and press were seen by the European hierarchy as heresies invented by the devil himself, while many American priests and bishops believed that they provide a healthy environment in which the Church can grow unencumbered by the old-world princely mindset. This theological embrace of the quintessentially American ideals by Catholics in the United States has come to be known as "Americanism".

The Americanists were inspired by Fr. Isaac Hecker, the Catholic convert and founder of the Paulists Fathers and Brothers, who saw in America a perfect setting for Catholicism and was the source of many of their ideas. Hecker insisted that Catholicism and American liberalism could be reconciled by linking the Catholic natural law tradition and the American understanding of God-given natural rights. Liberty allowed Catholicism the opportunity to provide the moral content that liberal democracy lacked on its own.

The starting point of Americanism was the observation that the world had entered a democratic age, dominated by individual rights, human liberty, and popular government. "This is the era of democracy, the day of absolute government is over," Bishop John J. Keane of Catholic University proclaimed. They argued that the Church must adjust to these new circumstances—not as a blind adaptation to the times but to capture the age for the Church. Archbishop John Ireland of St. Paul, MN (former Union chaplain in the Civil War) put it this way: "Church's mission to the world is the same as it has been during nineteen hundred years; but the world has changed and is changing. With the new order have come new needs, new hopes and new aspirations. To conquer the world to Christ, the Church must herself be new, adapting herself in manner of life and in method of action to the conditions of the new order, thus proving herself, while ever ancient, to be ever new, as truth from heaven is and ever must be."

On certain political questions, the American churchmen were quite progressive: They supported equal rights for blacks, the formal education of women, and (to the chagrin of German and Irish Catholics) the prohibition of alcoholic beverages. The Americanists distinguished between the permanent elements of the Faith - the "eternal principles" of truth - and the accidental, or contingent, elements of faith, which could change according to the circumstances. "The Church in America must be, of course, as Catholic as in Jerusalem or Rome; but as far as her garments may be colored to suit the environment, she must be American," Ireland wrote. "We should distinguish accidentals from essentials; we should be ready, while jealously guarding the essentials, to abandon the accidentals as circumstances of time and place demand." They praised American conditions and the freedom it provided the Church and argued that the Church should adapt to those conditions.

On January 22, 1899, Pope Leo XIII addressed an encyclical letter to Cardinal James Gibbons of Baltimore and, through him, to the entire Catholic hierarchy of the United States. This papal document, called Testem benevolentiae nostrae (Witness to Our Goodwill) condemned Americanist ideas as heretical and contrary to the "eternal teachings of the Church."

It took more than sixty years to vindicate proponents and ideas of "Americanism". The acceptance of the Americanist positions at the Second Vatican Council is manifested most clearly in the final document, Dignitatis Humanae, the Declaration on Religious Liberty. It is widely accepted today that Fr. Hecker, and bishops like John Ireland of St. Paul-Minneapolis, John Keane of Catholic University, and Cardinal Gibbons, were in fact exploring a new ecclesiology, a new way of thinking about the Church, that Vatican II would embrace.

Fr. Marek
---
Pastor's June Reflection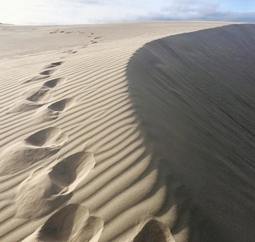 Summer is here and I hope you are planning on taking a vacation. I have read several reports that claim Americans work more hours, take fewer vacations, and retire later, than those in any other industrialized country. And anecdotally I can see what the men and women in our church are doing. We are always working, and seldom resting. Very few of us realize that God actually intended vacation, or rest, to be a part of our pattern of life. Or, if we do realize it, we often fail to integrate it with much regularity into our life rhythms. As we look at the beginning of the created order described in the first pages of the Bible, we find that God, after completing creative work, rested from all the labor. Theologians (myself among them) sometimes puzzle at what it could mean for an eternal, all-powerful being to rest. It seems unlikely that God could get tired, so what would be God's need for respite? … More on that to come.

If that verse in Genesis was all we had to construct a theology of rest, it would probably be enough to create a fairly thick book. But of course, there is more to the story. This pattern of rest which God initiates is built into the life of God's chosen people, Israel. We know this now as the Sabbath day, a day in which the entire nation was to rest (Exod. 20). The Sabbath had several purposes, but the chief goal was for the people to take a breather from their labor. This was to be observed even during the planting and harvest seasons, when the workload of the average Israelite would be at its heaviest (Exod. 34:21). Even beyond cessation of labor, conducting of commerce was prohibited, as was preparing food. The meals for the Sabbath day were to be prepared the day before to ensure the people were actually resting on that consecrated day (Exod. 16:23–30). The book of Leviticus also details a year of Sabbath in which the land was to be left unworked every seventh year. Beyond this, every seventh-seventh year (49th year), debts were to be forgiven, land which had been sold was to be restored to the original owners, and slaves were to be set free. This pattern of rest was intended to be deeply engrained within Israelite culture. It is unclear how often the Israelites actually followed this prescribed practice.

As you read the gospels carefully, you'll notice that Jesus has a regular pattern of active ministry that is balanced with time spent away from the crowds, time spent either by himself or with his disciples. Most of the time, when Jesus goes away by himself, he goes away to pray, and that prayer, that communion with his heavenly Father, helps to guide his future ministry. But sometimes, the time away is not just for prayer, like when Jesus tells his disciples, "Come away by yourselves to a deserted place and rest a while" (Mark 6.31). Jesus knew that sometimes, we just need to take time away simply to rest, to relax, to rejuvenate our bodies and spirits, to refresh our minds for the work and ministry that lies ahead.

To return to the question of why God rested after creation, it seems to me that the purpose was to demonstrate the necessity of a pattern of rest for humans to truly live the "good life." If God rested after six days of labor, how much more must we! It is not, of course, that God needed to, but rather that God was showing us a healthy pattern to follow. The purpose of the Torah was to lead God's people into the good life. It provided the proper parameters to allow for human flourishing. And central to that Law was the devine requirement of "R&R"...

The busyness with which we find ourselves almost constantly preoccupied is often of our own doing. We need to develop a healthier and more consistent pattern of rest in our lives. It will not suffice to have a once a year break from frenetic activity. Nor will it suffice to think of a pattern of Sabbath-rest as simply a religious activity of worshipping on Sunday. To respect the biblical witness of the importance of a rhythm of rest, we all need to create the time and opportunity to be free from busyness that we too might reflect upon God's constant presence in our lives. We need a chance to slowdown, to spend each minute deliberately, not rushing from one thing to the next. We need a place to leave tension and stress behind us. Vacation can be holy, for even God Creator and Jesus went on vacation!

Fr. Marek
---
Pastor's May Reflection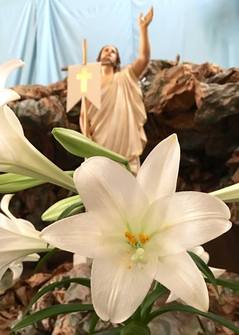 I doubt Ascension Sunday (May 28th this year) is your favorite holiday. As a matter of fact, the Feast of the Ascension strikes many Christians as the poor relative of the two rather bigger celebrations which top and tail the long and joyful season of Eastertide: Easter itself, and Pentecost. It is a peculiar day in the Christian calendar and an awkward thing to believe in for people living in the 21st century. In a de-centered, post-Copernican world, most of us don't know which way is up… The idea that Jesus ascended to God "up there" just does not fit the world as we know it today. What, then, are we to make of Jesus' Ascension? Of course, it's not out of the question that Jesus defied gravity, but is that the real point? Is the Ascension about gravity or spirituality, geography or vocation?
You see, the problem with the death and resurrection of Jesus is that precisely nothing has changed; the Romans are still evident on every street corner of the land, Israel remains that pathetic far-flung outpost of the Roman Empire and shows few signs of ever becoming anything else. Their king is another debauched member of the Herodian line of half-breeds, and the governor is a despotic and cruel tool of the overlord Rome. Hence the last question that apostles asks their Lord in Acts 1:6 has nothing to do with theology, religion, or even loosely understood spirituality. They ask: "Lord, is this the time when you will restore the kingdom to Israel?" Jesus' reply, seconds before "ascending up there" does nothing to lift their spirits: "The times and seasons that the Father has reserved to his own authority are not for you to know. Instead, you will receive a power from the Holy Spirit coming upon you. And you will be my witnesses in Jerusalem and in all of Judea and Samaria and to the end of the earth" (Acts 1:7-8). The answer to the question, "Is it time for us to get our power back?" is "you can not know such things, but instead of such idle and foolish speculation the Holy Spirit will soon give you real power, not to be great and grand and admired, but to be witnesses everywhere." But the disciples watch in silent awe as Jesus is enveloped in a cloud and disappears. I always imagine that Luke has in mind a rather long period of time between verses 9 and 10. The disciples, crane their necks more and more, gazing longingly into the skies, and perhaps begin, in the backs of their tiny brains, the calculations that they feel they must make to predict just when Jesus will be coming back, avoiding completely the warning that Jesus himself has just given that there is no way that any human can know such things, since that information is God's alone.
Luke makes this truth clear when two white-robed men appear in the clouds and chide the silent lookers with a sharp "Men of Galilee, why do you stand looking into heaven?" Why, indeed? Jesus has just made it crystal clear that the restoration of Israel under the magic power of a returning and furious warrior Jesus is not on offer. He will come back, they say, in the same way that he went, but heaven-gazing with increasingly aching necks is not the work of a true disciple of Jesus. Real disciples head for the places of Holy Spirit power, a power that will make them witnesses, proclaimers of the good news of Jesus the Christ, the one who has come to release captives, to pay special attention to the disabled and all marginalized of the society, to see the places where oppression is rampant and speak against it; in short, to proclaim the gospel to the poor, a gospel that includes the announcement of God's good favor to all.
Once the disciples who witnessed the ascension had lowered their gazes and had straightened their necks (perhaps a massage or two were administered?), they headed for Jerusalem and the temple where the promised Holy Spirit was about to show up. But note what the eleven disciples did. They went home, "where they were staying" (
Acts 1:13
), and "were constantly devoting themselves to prayer" (Acts 1:14). You can bet that their prayers did not consist of biblical parsing and specious calculations about the return of Jesus; they prayed for the coming of the spirit of God so that they could be empowered to be Jesus' witnesses in the world. Note, too, that they did not pray alone; quite astonishingly in the 1st century, "certain women," including Jesus' own mother Mary, joined them in the prayer. The world here has in fact become quite different indeed, as both men and women devote themselves to worship of God together. I imagine that some angry men stayed outside, picketing this outrageous mingling of the sexes, and continued to parse the texts, warning those praying inside that when Jesus came back - and if they would just wait a few more moments they would tell them exactly when that was going to be - he would furiously and decisively put them in their heretical places.
How modern this old story is! In 2017 we have far too many heaven-gazers and far too few true disciples. The great advantage of heaven-gazing, of course, is that it takes a lot of time, time spent calculating, parsing biblical minutia in order to predict the day of the Lord's return. And yet, Ascension Sunday is about the dangers of looking high when Jesus asks us to look low at the people he has come to redeem, to look for the poor and suffering ones rather than to dream of earthly power and glory. In short, Ascension Sunday is a fabulous statement of the gospel.
Fr. Marek
---
Pastor's April Reflection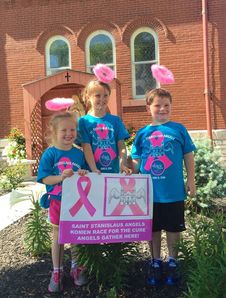 When God created this world, God said it was good. God loves all the oceans and the land, and all the creatures in it, and God hopes we will love it and think it is good too. But what God did not create, and what God does not love, is the ways that we tend to run this world and our societies. God does not love it that we have created a world where we live by the law of the jungle, where "might makes right," where we compete and hoard, where powers and domination systems place the overwhelming majority of humanity into abject poverty and misery.
One of the major, massive scale, instance of this kind of human created system of power and might was the Roman empire. Rome conquered many nations through the means of military, political, economic, and ideological exploitation and domination. They imposed a Pax Romana – a "Roman peace" – which meant that there was peace unless a nation dared to resist them – and then they would be brutally squashed back into submission. When Octavian defeated Anthony and Cleopatra, he changed his name to "Augustus" and the Roman empire took things to an even higher level than ever before. The Romans had just gone through 20 years of civil war and Augustus ended it. He brought peace – 40 years of peace! The people responded, "Thank God! Praise Augustus! He must be Divine!" And then the Roman "Emperor Cult" was born which was the heart and soul of the Roman Empire. It created a unifying ideology which asserted that Caesar was God, that he was Son of God, that he was Savior, Redeemer, and Lord! And Rome expected all of its subject nations to call him those things too. Eventually, God had quite enough of that. So when the next Caesar was in power, a certain Yeshua of Nazareth arrived on the scene. And this Yeshua, this Jesus, from a podunk town in a backwater province on the eastern fringe of the Roman Empire, had the gall to take on and defy that arrogant Roman ideology. Jesus taught his followers out-right defiance and rejection of any powers that be, any powers or principalities that dare to usurp God's power in God's world. Those false powers were the ones who really had the gall! -the gall to create systems which put all of the property and farms into the hands of a few and oppressed the masses by turning them into tenant farmers or share croppers who ended up beholden to debt collectors; the gall to create a system where women had no voice or legal standing but were instead treated as the property of men; the gall to create a system where humans enslaved other humans; the gall to justify oppressing and exploiting the poor, and force young people to fight in wars of expansion; the gall to say worldly leaders and worldly powers are gods instead of God Him/Herself! And then…, the "empire struck back"… The domination system conspired against Him and they meted out the worst they could do – they had Him arrested, beaten, and executed. One thing the powers that be cannot tolerate is being rejected and so they rejected Him! They killed Jesus. As they say in Communist China, "the nail that rises up gets hammered back down." Take that! End of story… And with that, Jesus' disciples (at least the men) hid away in fear.
But then, something extraordinary happened. God said, "Uh, No. That is not the end of the story!" And though He was indeed good and dead, God amazingly and graciously resurrected Jesus – back to life! Jesus of Nazareth who had been delivered up by the chief priests and executed by Romans under Pontius Pilate, was alive again! The guards who'd been posted at the tomb ran to tell the chief priests what had happened. Their lives were at stake for failing to prevent the tomb from being opened. To break the Roman seal that had been placed at the entrance to the tomb was against the emperor's law and punishable by death. So Jesus' resurrection was an act of civil disobedience. God was breaking Roman law! : ) When Jesus showed Himself (in a way that nobody can fully explain) to those disciples who had run away in fear, and when they saw Him and recognized the nail marks on His hands, they came out of hiding! Until they saw Jesus, they viewed the world the way others did. The central reality of their lives had been the power of the system and their own powerlessness in it. But when they saw Him risen and alive, they unlocked the doors, came out, and began turning the world upside down! At last, they were finally converted! They knew another reality that was bolder, truer, and stronger than the powers that had been paralyzing them with fear. Jesus had risen! Jesus was the Lord ("Kyrios" in Greek) – not Caesar! Today, the living resurrected Jesus stands before us. We too are hiding behind locked doors and are afraid to come out. He knows us and He knows our fears, and that is why He lived and died to liberate us from our sins, our doubts, our fears, and the addictions we use to medicate and numb ourselves. God raised Him from the grave to show us His victory over them and to set us free from their power. The resurrection exposes bogus powers and restores us to right community and to who we really are! I'm not "Roger: a slave to the system!" I'm Roger – free in Christ! Liberated to advocate for justice and to serve God's people and meet their needs – and nothing's gonna stop me! Every time we act upon Jesus' lordship, every time we follow His teachings, we are demonstrating His victory! Every time we claim Christ's freedom over our fears; every time we tear down the walls of race, class, and sex; every time we love our enemies; stand with the poor; forgive those who have wronged us, or resist the violence of the nations by acting for peace, we are demonstrating the victory of Christ in the world. His victory is present wherever it is claimed and acted upon. Let us dedicate the rest of our lives to claiming and acting upon this victory!

Fr. Marek
---
Pastor's March Reflection
Every year on the First Sunday of Lent we hear the narrative of Jesus' fast and temptation in the dessert. Both Matthew and Luke follow the story of three temptations: Jesus ate nothing for forty days and he was famished. The devil said to him, "If you are the Son of God, command this stone to become a loaf of bread." Jesus answered him, "It is written, 'One does not live by bread alone.'" Then the devil led him up and showed him in an instant all the kingdoms of the world. And the devil said to him, "If you worship me, it will all be yours." Jesus answered him, "It is written, 'Worship the Lord your God, and serve only him.'" Then the devil took him to Jerusalem, and placed him on the pinnacle of the temple, saying to him, "If you are the Son of God, throw yourself down from here, for it is written, 'He will command his angels concerning you, to protect you,' and 'On their hands they will bear you up, so that you will not dash your foot against a stone.'" Jesus answered him, "It is said, 'Do not put the Lord your God to the test.'" When the devil had finished every test, he departed from him until a more opportune time.

In the first two challenges, Jesus responds with quotes from Scripture: "One does not live by bread alone" and "Worship the Lord your God, and serve only him" - and the devil is stumped. It is in the third one that the pattern changes. This time it is the devil who leads with Scripture, trying to tempt Jesus to jump off the temple with: "For it is written 'He will command his angels concerning you, to protect you" and "On their hands they will bear you up, so that you will not dash your foot against a stone." And while Gospel writers record Jesus' answer as "Do not put the Lord your God to the test," what I also heard is, "Dude! You're not supposed to take this stuff literally! This isn't about jumping off a roof, for Pete's Sake - it's about changing the world! Now get out of here, I've got work to do." And there it is. After years of reading, marking, learning and inwardly digesting these Gospel passages, on this threshold of Lent 2017 I was struck with the divine irony that when the devil had run out of other temptations, he turned to Scriptural Literalism in his last ditch effort to keep Jesus from his appointed rounds as the rabble rousing Rabbi from Nazareth. I am confronted with how that pattern has continued in the churches over the last 2,000 years as it has succumbed over and over again to the temptation to confuse the Living Word of God with the Literal Words of God and has let the devil tempt it into using the Scriptures as weapons to defend the Institutional Church rather than as tools to build the Kingdom of God.

The gospels, and especially Matthew, were written by Jewish disciples of Jesus. New Testament writers assume certain things that Jews can assume about their common life, their common heritage and scriptures and their common ability to tell stories. They do not have to explain that. Then, by the year 150 or thereabouts, there were so few Jews left in the Christian church that Marcion wanted to remove any semblance of Judaism from the Christian scripture. The church officially resisted that, but unofficially they became quite anti-Semitic. What happens then, you have an audience of only Gentiles reading these Jewish stories and because they don't understand the storytelling background they have to assume that the stories are literal. The lateralization of the Gospels is not the result of the authors, it's the result of a generation 150 years after the birth of Jesus who did not know the Jewish tradition so they could not see these connections. They did not know, for example, that the feeding of the 5,000 was not a miracle. It was a retelling of Moses' manna in the wilderness story heightened and applied to Jesus. That is a very different perspective so the Jews never argued about whether Jesus actually fed all those people with five loaves and two fish. But, if you see it as a familiar story in the Jewish tradition where the food supply is expanded in the Moses story, and in the stories of Elijah and Elisha, then you can retell it about Jesus and magnify it. In addition, Jesus' ascension into heaven is not an astronomical wonder, it is the story of Elijah magnified and retold about Jesus. When Elijah ascends into heaven he sends a double portion of his human spirit onto his human disciple. When Jesus ascends into heaven he sends the infinite power of God's Holy Spirit on the whole gathered community sufficient to last through all of time. We have to see the connections between these stories before they make sense. It gives us an alternative to biblical fundamentalism, which is alien to the text.

I am convinced that we can do better than that. Just as Jesus refused to let the devil tempt him with Scriptural Literalism in the first century wilderness, we must resist the same temptation in the 21st - because it makes no more sense now than it did then to take the Living Word of God and misuse it as the Literal Words of God. Jesus knew that - and when he called the devil on it, the devil had no option but to "retire until a more opportune time." So may God give us the grace - and the wisdom and courage - to go and do likewise this Lent and beyond. Because God knows we've got work to do making that kingdom come on earth as it is in heaven!

Fr. Marek

Pastor's February Reflection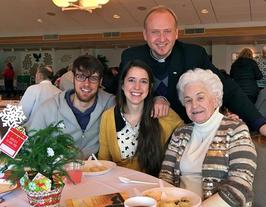 I wonder how many of you sat down to a meal this week, had dinner with a close friend or a family member. Like a real dinner - not in front of the television. I wonder how many of you had three meals or more last month with a close friend or a family member where a smart phone was not present at the table. I ask, because having dinner as a family used to be a common occurrence, and that has changed in our fast paced, grab and go culture. There are some of you today who will remember growing up and having dinner as a family every night of the week. You may remember that dinner could not be served until everyone was at the table and the phone hung on a wall, and if it rang during dinner, you ignored it, you did not answer it. Things have changed now; it is so uncommon to sit down to a meal as a family that researchers have done studies on the benefits of the practice, trying to beckon us back to a common table to share our lives every day! It is hard to find the time to sit down as a family with our busy schedules, meetings, soccer practices, doctor visits, tutoring sessions, to name just a few.

Tony Campolo, pastor and an author, tells a story of an experience at a dinner in Port-au-Prince, Haiti, some years ago. He was checking on mission programs that his organization carries out day in and day out in Haiti. He wanted to see how the workers were surviving emotionally and spiritually. At the end of a long day, he was tired and "peopled out," so it was with great relief that he sat down to eat a good dinner at a French restaurant in the heart of Port-au-Prince. He was seated next to the window so he could enjoy watching the activity on the street outside. The waiter brought a delicious looking meal and set it in front of him. Tony picked up his knife and fork and was about to dive in when he happened to look to his right. There, with their noses pressed flat against the window, staring at his food, were four children from the streets. They pressed their faces right up against the glass; they were staring at his plate of food. The waiter, seeing his discomfort, quickly moved in and pulled down the window shade, shutting out the disturbing sight of the hungry children. The waiter then said to Tony, "Don't let them bother you. Enjoy your meal."

Jesus is challenging us, his followers, to examine who we pull down the shades on. We pull down the shades and shut out the people we would rather not think about. We certainly pull down the shades on some of the world's problems, its heartbreak and pain, and we keep that heartbreak and pain at a distance if only because it feels so overwhelming to open our hearts to all of it. In the 14th chapter of Luke's Gospel, Jesus is teaching us about the kingdom of God through a parable of a wedding banquet, one of life's biggest celebrations. Weddings are events that reveal who we are because they gather all of the people who are most important to us in one place. All of those who are present and guests at our wedding are those who we have been known by, those who have influenced us, and those people that we claim. The people who gather at our weddings are the same people we sit at table with - family members, cherished friends and colleagues. They are the people with whom we have shared countless meals and conversations. I think that Luke's Jesus is pushing his followers to consider who is missing from their tables, to examine who they, or we, have pulled the shades down on, who they, or we, we have written off, who they, or we, value less. This passage reminds us that just because we have pulled the shades down on certain folks, that doesn't mean that God has.

I encourage all of us, to push up the metaphorical shades today. Even if that is just one person or one relationship in your life. I wonder, who is it hard to look into the eyes of? Who would it be hard to sit down and have dinner with? It could be the relationship that has been estranged for years. It could be the person with whom you disagree politically. It could be the person who may be right in front of you that our society barely notices. I bet we all have a person or people in our minds eye. Take a moment and picture this person, and then imagine looking into that person's eyes. What do you see there? What surprises you there? How might their place at the table be different from what you assume or expect? Jesus wants us to remember that we do belong to one another. And this parable is inviting us to imagine what it would be like if we lived as though that were actually true. Imagine what that would look like for you, imagine how that may look for us, imagine how that may look in our communities. May we at least attempt to see the world through eyes like that.

Fr. Marek
---
Pastor's Christmas Reflection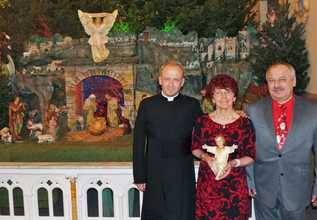 What is love? When we think about love, we often think about romance, even falling in love. We think about the love that a parent passes along to a child, grandparent to grandchild. Our mind goes to the most-familiar love scenarios: two people falling in love. A marriage ceremony. The birth of a child. But from what I see from the Divine, God is all about shining love in the least likely places.

Here we are at the stable, a non-conventional place for any child to be born. At this little manger, a new spark of love is born into the world. If you look at Luke's account of Jesus' first few hours and days of his life, he was surrounded by love. And not just by his parents, but shepherds appeared adoring the baby. After leaving the stable, Mary and Joseph presented Jesus at the Temple in Jerusalem. While they were at the Temple, Simeon and the prophet Anna showered Jesus with love and gave glory to God for the experience of being with Jesus. I believe this experience with love from the least likely people at the beginning of his life helped Jesus to truly understand the presence of God around him and within each of us. And I believe that his experience with love in the first few days of his life gave Jesus that extra persuasion to preach love. Already born with the spark of the divine within him, Jesus grew in love, knowing that nothing else was greater than loving God, our neighbors and even ourselves. We just never know who we're going to interact with in our lives, and how this love will ripple into the world. Through these interactions, Jesus felt and experienced love in his earliest days, and, this I believe, helped him grow in love.

Have you seen the movie "Love Actually"? The opening scene begins at Heathrow airport, where people are blissfully meeting their loved ones at the arrivals gate. Then the prime minister states this: "Whenever I get gloomy with the state of the world, I think about the arrivals gate at Heathrow Airport. General opinion's starting to make out that we live in a world of hatred and greed, but I don't see that. It seems to me that love is everywhere. Often, it's not particularly dignified or newsworthy, but it's always there – fathers and sons, mothers and daughters, husbands and wives, boyfriends, girlfriends, old friends. When the planes hit the Twin Towers, as far as I know, none of the phone calls from the people on board were messages of hate or revenge – they were all messages of love. If you look for it, I've got a sneaking suspicion… love actually is all around."

So, is love all around us? Is love happening in those in-between moments? It's hard to see hope, peace, joy and love after the tragedy happens. All the mass shootings and many other tragic events of this past year gave us each a heavy heart. We know some of our sisters and brothers will be dealing with so much pain this Christmas, pain from grieving, depression and conflicts. It is often difficult to see love when so many that we care about are truly hurting. But then we open our eyes a little more. We look around at what is happening around us. People are sitting with someone who's ill or grieving. People we don't even know are praying for us. We see love going beyond races, genders, sexual orientations, religious beliefs, family structures, political views. Love is the universal truth that we as Christians experience in Christ. Bad things do happen in our lives. There is no way to avoid all suffering in our lifetime. But, again, we meet love in an unlikely place as we walk the horrible road of suffering. Love has the potential to take a very bad situation and make it less painful and lonely. Love is contagious, and once we experience the greatness of love shared with us we can't help but pass it forward. Each little experience with love impacts us. From the time we are young into our later years, each time we meet love somewhere, we experience the presence of God. The more we share that love, the more others see God in their lives. And that is what God is calling us to do this Christmas and throughout the entire year.

Part of our church's vision is to carry Christ's love to all. Our love of a church family is an active part of our faith. To us, love means having open tables and open hearts to all, as we all are part of the Body of Christ. Through our vision, nurture, laughter and inclusiveness, we have faith that people in our church and community will experience God. Through our involvement in this community, we pray that others will see the unconditional love of Christ in their midst.

Two thousand years ago, from simple beginnings, a baby was born. With that birth came hope, light and love that has rippled into our world. As we go forward, let us remember that love happens in the least likely places and ways and between the least likely people. And may this season of Christmas we see this in that least likely place: far away from home, surrounded by animals and strangers in a drafty stable.

Fr. Marek
---
Pastor's Advent Reflection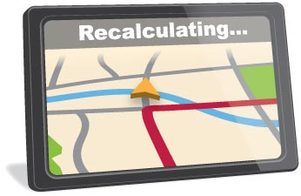 Allow me to begin with the obvious: Advent is a season of preparing for the coming of Jesus. For many centuries in Western liturgical churches, it has (like Lent) been a penitential season. Though it is about remembering his first coming 2000 years ago, it has also been about his second coming at the last judgment and the need for us to be prepared through earnest repentance. Thus, like Lent, the liturgical colors for Advent have been (and for the most part still are) violet or purple, the color of penitence. In this sense, Advent offers us a season of both hopeful waiting and penitential renewal. We shop, share, celebrate, and we also take stock of where we've been this past year and what we resolve to do during the next year.

Marcus Borg, one of my favorite contemporary theologians (died in January 2015), three years ago criticized that emphasis on that penitence, pointing out that we should instead be focusing on the coming joy over the enduring sin. It caused me to nod in some agreement, but I could not get totally comfortable with his suggestion. Part of the Advent season to me is about retrospection, with a review of the past year, with prayers of a better year. It is hard to hope for future joy, justice, and peace without grasping all that isn't joyful, just, and peaceful today. For penitence to me - Advent, Lent, or otherwise - isn't so much about guilt and sin as an opportunity for renewal. I gave up guilt decades ago during one Lent and have generally been good at recognizing and ducking it ever since. Guilt is backwards-focused. Renewal is backwards-informed and future-focused.

Perhaps even a better word than penitence or renewal to be used in relation to Advent spiritual practice is "recalculating". In this technologically oriented era, it seems more fitting to think of Advent as a time to recalculate like a GPS or smart phone app giving directions. I know where I am, and it's not where I want to be; I know that I should be in a different place. Recalculate that GPS, and we find our journey making a little more sense. Recalculating rather than renewing guides me away from the problems and that I've found myself in and towards my desired destinations, the places I want to go.

Advent can be an opportunity to examine, or recalculate, our relationships with others and with God – a time to ask, "Can we start over?" Advent does not require us to bathe ourselves in guilt. It doesn't require us to eliminate all the sin or bad things in our lives. That just isn't possible. Even Jesus did not eliminate all the evil in the world or heal all of the sick during his years of ministry. But while we are waiting for the birth of this Prince of Peace, we can accept the responsibility to be peacemakers - to be sources of reconciliation, even if in very small ways, in our lives. We also can accept responsibility for our relationship with God. A sense of awe and wonder and humility around the coming appearance of the Infant Jesus does not require us to fear the judgment of an angry God. In these precious four weeks of Advent we can discover that God truly desires a close relationship with us. The only thing that keeps us far from God is our own fear about what might happen if we get closer to God. What will happen if we complain to God, if we have a tantrum, if we make some huge mistake?

In a few weeks, these questions will not matter. God is not going to wait for us to confront and dismiss our fears. God will come to us as a small child, vulnerable, and will ask us, "Can we start over?" Let's say yes.

Fr. Marek
---
Pastor's November Reflection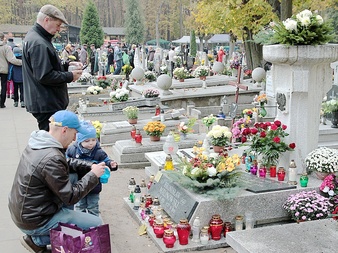 Ask typical Americans how they would prefer to die and they are likely to say quickly, painlessly, and in their sleep - that is, if they have even given much thought to their own death. For many, Catholic or not, the thought of dying under the fluorescent lights of a sterile ICU, hooked up to countless machines, is the stuff of nightmares. This lingering and dehumanizing process is instinctively understood as a bad way to die, but often we do not have the imagination to offer a robust alternative. So we try to avoid the process of dying altogether, preferring either an unconscious demise or, as some recent polls indicate, a quick and controlled death through physician-assisted suicide. If we are honest with ourselves, however, we recognize that this escapist impulse does not serve us very well. A good death, if any death can truly be called good, occurs when one dies at peace with other and with God, and this peace is hard to find in the modern ICU or in sudden deaths. Modern medicine's emphasis on technological progress and patient autonomy offers little in the way of fostering this kind of peaceful death.

November is the month of the dead. Today, those words seem distasteful, but for centuries, remembering and honoring the deceased held a place of distinction in the calendar year. In centuries past, as the crops were harvested and the earth left barren and the days grew shorter and colder, nature herself appeared to call humanity to sobering reflections on mortality. The vestiges of the age-old traditions of homage to the dead provoke surprise and nervous humor in some. Visitors to Poland or Italy marvel at families gathering together in November to make a trip out to the cemeteries conspicuously present in every city, town, and village. We continue this venerable tradition here at St. Stanislaus, by visiting the graves of our beloved deceased ones, and by praying for the dead, by their names, on November 2nd, and every Wednesday of this month.

Even the language use to speak about mortality conceals itself in euphemisms: "end of life," "last phase" and "passing." In a world where even explicit sexual material has become an acceptable topic of polite conversation, the subject of death has increasingly taken its place as social taboo. While we may hesitate to discuss what dying well means, historically this was not so. In the 1400's a booklet was published called "Ars Moriendi" (The Art of Dying) and was the quintessential book on preparing to die, and dying well. It was widely circulated, with over 100 editions and translations into most European languages. The book spiritualized dying, describing five temptations people dying face. Those temptations were lack of faith, despair, impatience, vanity and greed. The way to die well, then, was to fight these temptations with their opposites. Dying well meant having faith, hope, patience, humility and generosity.

In the 1400's the availability of medications for symptom management was non-existent. This booklet served to place reason for many of the experiences people witnessed in the death of a loved one. Without an understanding of terminal delirium and restlessness, it was easier to claim impatience as the cause and pray for patience. In our modern day, medications and scientific understanding help us recognize and treat the physical aspects to aid in dying well. There is more, however, that may be in our control than we'd like to think. Suffering, despite what we may believe, is not an easily medicated symptom. Since suffering originates from the mind, from experiences, and specifically beliefs and thoughts about those experiences, the control rests solely on the individual. I have seen despair resolve when the focus of regrets moves towards the hope of resolution. I have seen vanity melt away with the courage to humbly ask for forgiveness. I have seen the suffering that stems from the greed and self- focus of 'why me?' disappear with a shift to gratitude for the life one has lived.

To die well may incorporate some of the very things this 600-year-old book spoke of. How you die is the proving ground, the cradle, and the grave for every conviction you may have about justice and mercy, about the meaning of life, about what love should look like and what it should do. Dying well is our spiritual and moral obligation….

Fr. Marek
---
Pastor's October Reflection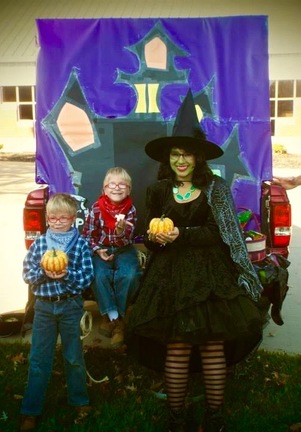 Once again, October has arrived and with it the yearly question "How should Catholics/Christians respond to Halloween?" There is an interesting conversation to be had about Halloween. A place to explore the intersection of history, faith, and culture. To add my voice to that conversation I'd like to offer some observations in defense of Halloween.

Yes, Halloween has similarities with (possibly accretions from) Samhain, the Celtic end-of-summer celebration. But this does not make it a pagan holiday. As historian Nicholas Rogers, author of Halloween: From Pagan Ritual to Party Night (Oxford University Press, 2002), states, "If Samhain imparted to Halloween a supernatural charge and an intrinsic liminality, it did not offer much in the way of actual ritual practices, save in its fire rites. Most of these developed in conjunction with the medieval holy days of All Souls and All Saints day." Indeed, most of the traditions we associate with Halloween are medieval or early modern in their origin - not "pagan". First, we know that festivals commemorating All Saints (All Hallows) existed in Europe by 800. We also know that these festivals were not created to supplant previously existing pagan rituals. The Irish world (which provides the origin of the Celtic feast Samhain) celebrated a feast for saints in April, while the Germanic world (which did not recognize Samhain) celebrated in November. What does this tell us? It tells us that the actual chronology of Halloween contradicts the widely held view that the November date was chosen to Christianize the festival of Samhain. Pope Boniface IV converted the famous Roman Pantheon (pagan temple dedicated to all gods) into a Catholic church dedicated to all saints and martyrs during the 7th century. This day was then commemorated as All Saints Day. While history does tell about the Christian appropriation of a pagan temple, this narrative is firmly situated in a Christian event (the dedication of a new church) far removed from the Celtic world of Samhain. From this medieval perspective, "Halloween" is a celebration of Christian triumph over paganism, rather than a pagan holiday masquerading as Christian.

More than historical reasons, psychology is an even bigger factor in my defense of Halloween. Psychologically, I believe, Halloween performs two important functions. First, Halloween allows us to collectively process our eventual death and mortality. The graveyards, corpses, blood, skeletons, and coffins of Halloween allow us, on a yearly basis, to confront our physicality and work through our largely repressed fear of death. In this, Halloween serves an important existential function. Second, Halloween allows us to work through our fears of the uncanny, the things that go bump in the night. This is the second major theme of Halloween, which manifests itself in Halloween's evening and monster motifs, the bats, owls, ghosts and goblins. The world is a scary place at times, a strange and mysterious place, and we tend to fill its dark corners with "monsters." Halloween, particularly for children, allows us to roam a night filled with ghosts and ghouls to find only friends and neighbors (and candy!). Again, vague fears are collectively confronted and processed. Thus, two of the great themes of Halloween - death and the uncanny - are healthy confrontations with our collective anxieties concerning our frailty and mortality. In this I believe Halloween is empowering to children, giving them a sense of control in a spooky and scary world.

What I think has happened in some Christian communities is that the Halloween motifs of death and the uncanny get linked to the occult and from the occult to demonic/Satanic influences. I think this link is a bit of a stretch (largely made by linking that symbol of the uncanny - witches - to spells and black magic, and from there to occult and demonic forces). Death is not demonic. We should not associate the graveyards, blood, and skeletons of Halloween with Satan. Graveyards are about our bodies and their frailty, and most of Halloween is as well. Further, the uncanny is the unknown and the mysterious. The night is not demonic, it is just mysterious and, as a consequence, spooky. And it is good at times to confront the spookiness to see that there really isn't a monster in your closet.
​
So I defend Halloween to my Christian friends and pastors. I think Halloween's motifs of death and the uncanny are not about the demonic. They are about our children and us collectively confronting the scary things in life. And that seems to me a good thing.

Fr. Marek
Pastor

---
Pastor's September Reflection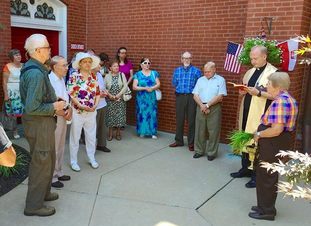 This reflection starts with a personal confession: I have a streak of Pharisee in me. Oh, when I read the gospel passages, I always roll my eyes right on cue and cheer Jesus' cutting remarks to them. But when I think about my own approach to life, I can't help but feel a pang; I know these guys because at times I am one of them.

In 167 BC, Antiochus Epiphanes marched into Jerusalem, massacred the Jews, worshipped Zeus in the Temple, sacrificed pigs on the altar, and banned the practice of Judaism. Sabbath keeping, circumcision, and teaching Torah were outlawed. Some defied the ban and sought to live according to the law. They were called the Hasidim, the pious ones, from whom the Pharisees and Essenes are descendants. Pharisees were the ones who did not bend the knee to idol occupation and cultural syncretism but said, "As for us, we will be faithful and keep covenant with God." Anything that threatened their purity to the Lord was zealously avoided. Yes, the Pharisees were the good guys. At least they thought so.

We are not all that different. A central mark of a follower of Christ is her or his faithfulness. We have traditions and rules, informed by Scripture, to help us stay clean and in close relationship with God. These rules help us to live a good and moral life. There are worse things to be than a Pharisee. They may be the foil to Jesus in the gospels but the Pharisees and Jesus are not polar opposites. They are not the evil to Jesus' goodness; they are not the shade to the Light. The failure of the Pharisees was that their desire for purity in the name of God blinded them from seeing God in their midst. For all of their good intentions, the Pharisees had a vision problem, a failure to imagine the magnitude of God's kingdom - presence in the person and the work of Jesus Christ (Luke 11:31-32).

Jesus cast a different vision for life. In the ministry of Jesus, something radically shifted. His ethic was not based in purity and faithfulness to good old rules, but love. Jesus rejected rituals for the sake of appearances (Matthew 6), legalism (i.e. Matthew 7:8-9), and the exclusion of outsiders. He taught his disciples to reflect God's character: God's love, forgiveness, mercy, and holiness: "Be perfect, therefore, as your heavenly Father is perfect." (Matthew 5:48) While the Pharisees were worried about sin's contamination, Jesus knew that holiness is contagious. Jesus associated with sinners without fear of corruption – not because he was God – but because he was living in the dynamic power of God's kingdom - presence. This same power is at work in all Christians through the Holy Spirit (Romans 8:10). Jesus taught the way to holiness was not through building fences but through extending mercy.

In the conversation about how we people, how we can relate to each other, our imagination for sin and disaster is often times much stronger than our imagination for God's reconciling love and holiness. We are still taking our cues from the old age, not the new. The moral failure story triumphs over the transformation now available to us Christ. If our vision for life in Christ is focused on protecting ourselves from external temptations to sin and our internal evil impulses, then by all means we should adopt the posture of the Pharisees, and defend against all threats, including relationships with the people who differ from us. But if our vision for life in Christ is focused on being transformed toward holiness, wholeness, reconciliation, and love, in response to the love and mercy we have been shown by God, we should lean toward relating to "the other" with trust, respect, and compassion.

Pharisees' fault was in not knowing the balance. They were so caught up in the laws that they missed the reason for the laws. What they had in knowledge, they lacked in flexibility and understanding. The fact is that Pharisaism is not simply an historical movement in Judaism, but represents an abiding tendency and temptation to all who would seriously embrace a righteous, moral life. When we begin making a concerted attempt at living such a life, the temptation arises to become not simply righteous, but also self-righteous, and to compare oneself favorably with those others around who seem not to be living such a life - to "trust in themselves that they are righteous and despise others" (Luke 18:9).

Jesus doesn't come to trash the laws. In fact, the laws remain important. But he balances them and reminds us of the humanity. So often it's easy to say that something is right or wrong, black or white. I prefer it that way, in fact. But when we look closer, there are often shades of color that need to be considered with love. And that's the key. Love. Jesus doesn't abolish the law, but he adds love back to it. This is what we, and all the Pharisees, needed to continue learning.

Fr. Marek

---
Pastor's August Reflection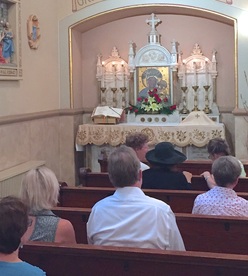 Over the past 2,000 years, the Virgin Mary's face has been imagined anew by every generation. We depict her beauty according to current standards of attractiveness, re-inventing her to reflect our own priorities. Her portrayal over the centuries was fluid: Mary's image absorbed the attributes of ancient goddesses; was an anathema to Islamic revelation in the seventh century; denounced during the iconoclasm of the ninth century and continuing; made more nurturing and familiar during the Middle Ages; royally bedecked during the Renaissance; relegated to the role of genial housewife by the Reformers; and shunned by the Enlightened, before she reemerged, officially recognized by Roman Catholics as the Queen of Heaven, with the proclamation of the dogma of the Assumption in 1950.

When I consider Mary's life as it was actually lived, however, and the earthly reality of this olive-skinned, dark-eyed daughter of Israel who struggled to survive in a hardscrabble, politically oppressed society, a different image emerges. Her life was one of poverty and hardship, punctuated with spirit-extinguishing sorrow. Giving birth is a strenuous, messy job, even today in a hospital, much less 2,000 years ago in a cave intended for livestock after traveling for days on a donkey. Once her son was born, her maternal joy must have been tempered by the knowledge that hundreds of other mothers were grieving, their babies slaughtered because of her child. From temple elder Simeon she soon learned what she had probably already intuited: A sword will pierce your soul, too. And so it was. A few short years later, she stood by, helpless, as her son was sentenced to death, scourged to a bloody pulp, and nailed to a cross. This other Marian history is hinted at by the image of Our Lady of Częstochowa, the fabled Black Madonna housed at the monastery of Jasna Góra in Poland. Like many icons, this one is also covered in heavy gold filigree and studded with precious stones. But the glitter cannot hide the palpable sadness in her eyes. Her intense, haunting gaze seems to look both backward and forward in time. Shot with an arrow, slashed with a knife, the icon's face is permanently scarred. The historical Mary, also scarred by life, is eternally beautiful because she allowed suffering to transform rather than disfigure her soul.

For six centuries, through Poland's wars and vacillating fortunes, the faithful have walked days, often the last distance on their knees, to revere the Black Madonna of Częstochowa. Painted on wood - legend has it by the brush of St. Luke - the doleful four-foot-high icon is the focus of the nation's spiritual life. St. Helena is said to have brought the painting from Jerusalem to Constantinople and started its wandering history through Charlemagne's hands and eventually to Duke Ladislaus of Opole, adviser to Louis of Anjou, King of Poland and Hungary. Ladislaus, the story goes, was passing Czestochowa with the picture when his horses refused to go on. In his sleep, the Duke was told to leave it at the nearby hill, henceforth known as Jasna Gora (Bright Mountain). That was August 31, 1384. A multitude of miracles are attributed to the icon, but the most profound for Poland was the siege by the Protestant Swedish army, which had overrun the country in 1655. Seventy monks and 180 supporters held off nearly 4,000 Swedish soldiers until they withdrew after 40 days. The act of defiance inspired the countryside to rise up and throw out the Swedes within a year. The face of the Black Madonna is actually a burnished brown. A cheek bears the scars of saber slashes purportedly inflicted by robbers - Hussites by some accounts - who desecrated the monastery in 1430. More recently, the madonna's image was never absent from Lech Walesa's lapel during the Solidarity leader's struggle against Poland's Communist regime. For Czestochowa (chens-toe-HOE-vuh) is far more than a religious beacon. It is a safe harbor for Poland's history. Its museums hold relics of a proud and painful past: King Jan Sobieski's eagle standard from the defense of Christianity against the Turks at Vienna in 1683, carvings by the Polish general and American revolutionary Thaddeus Kosciusko and a rosary formed from concentration camp bread. Tadeusz Mazowiecki visited Czestochowa two days after becoming the East Bloc's first non-Communist prime minister in August of 1989. John Paul II had made multiple trips to his native Poland as Pope, always returning to Czestochowa, which he secretly visited as a student pilgrim during World War II.

When she agreed to bear the Son of God, Mary chose to rely on faith, not fear. Yet she enjoyed none of the pleasures that we have come to conflate, mistakenly, with God's presence. Too often the gratification of our senses and egos is taken as proof that God is on our side, as though a logical equation can be made between faith and what happens here on earth. For all of her regal and demure portrayals in art, and her near silence in the Gospels, Mary's is a loud and often difficult message: Faith is not rewarded in ways that can be expected or anticipated. And yet, Fr. Simon Stefanowicz, a popular English speaking monk-guide is known for saying ''Czestochowa has withstood 12 wars, martial law and Chernobyl explosion. She survives, and we survive with her."

Fr. Marek
---
Pastor's July Reflection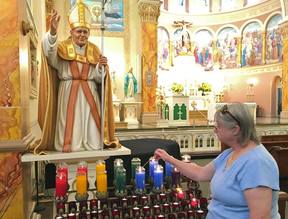 Orlando, San Bernardino, Boston, Sandy Hook, Aurora, Columbine: all these city names have become synonyms and symbols of traumatic events that – despite happening somewhere far away – have deeply disturbed our lives. In my short ten years as St. Stanislaus's pastor, I have listened to countless TV reports of innocent people murdered in cold blood. Then, there are also more personal "everyday traumas" that as a priest I witness much too often; a child is abused, a woman is battered or raped, a neighbor commits suicide, a woman aborts a child, an accident or illness breaks someone's body. The word trauma comes from a Greek word which means a "wound". It is most commonly defined as the feelings aroused from witnessing or experiencing events that bring about actual or threatened death or serious injury or threat to physical and bodily integrity, either to oneself or to others. Traumatic events often leave one feeling overwhelmed and stuck, disrupting our intimacy with God and our connection to community. One of the people I counseled a few years ago, a young woman physically abused by her father, told me, "I've always believed in God, but for years I never liked him. In my mind God stood in the doorway of our living room just watching as my father beat me. So when I grew up I shoved God away." Trauma affects core beliefs about God, ourselves, and others.

We believe in God who truly "heals the brokenhearted" (Psalm 147:3), and calls us to be instruments of healing, for ourselves and for others. "Wounded healers" are oftentimes the best tools in God's loving hands and while there isn't one simple answer to dealing with life's trauma; I would like to suggest just a few very basic steps:
Acknowledge the reality of pain and loss. Before you say anything spiritual or quote Bible verses, recognize the reality of your, or your friend's pain. First of all: be present, allow yourself or your loved one to experience the reality of loss. You don't always have to say something profound or "spiritual." Just show up. Listen. Feel. Engage. Walk beside your friend in those ragged "wilderness times" of her or his spiritual journey.
Allow yourself (and others) to be real with your emotions. Trauma can take people on an emotional roller coaster ride. Some of the emotions are frighteningly intense: uncontrollable anger that spills everywhere, a profound sadness, unpredictable grief, or a crippling shame. The anger may be directed at God or others or the victim themselves. All of these intense emotions are normal. Admit the anger you feel as a result of the trauma you experienced. Ask God to help you stop expressing it in destructive ways and start expressing it in healthy ways. Use the energy in your anger to accomplish something constructive, like working to help solve the problem that caused your trauma (for example, if you were abused, reach out to others who have gone through the same type of abuse, or if your loved one was killed by a drunk driver, seek out a support organization that fights drunk driving). Be honest with God about the anger you feel; doing so releases its power over you, giving you the freedom to pursue healing.
Be honest by moving beyond victimhood. Physical, emotional, or sexual abuse (especially if it happened in childhood) can shatter our self-worth and convince us that we are ugly, stupid, and worthless. What a devastating and wrong conclusion! But when that's the only identity you know, you cling to it like a life preserver. Renew your faith in God who sees you for who you truly are: God's beloved and praiseworthy child. Your trauma does not define you in God's eyes, and it should not define your value in your own life. Expect God to reverse the negative power of your trauma and change it into positive power that will be a conduit for God's love and healing to flow through.
Tell your story. Get the story of what you've gone through out, instead of denying it, repressing it, trying to walk through it alone, or hoping it will just go away if given enough time. Face the story of your trauma and share it with God and at least one person you trust. Acknowledge that you're carrying pain from past events; become completely honest with God about your sin, brokenness, rage, sadness, and hurt; and find safe people who will listen to your story (such as a friend, small group, therapy group, or counselor). But be sure to share your story on your own terms, without giving into any pressure from others. Remember that you can choose what to tell and how and when to tell it. After you tell your story, invite God to come into your story.
Build a healing church. Let your gratitude for the healing you've experienced in your own life motivate you to help other people who have gone through trauma. Do all you can to help build a healing environment at your church, where traumatized people can feel safe to come to pursue God and fellowship with other believers. Accept one another; listen to people's stories; be willing to cry, hug, and pray with hurting people; and serve people by working to meet some of their practical needs. Be patient with people who don't change right away, just as God is patient with you.

Fr. Marek

---
Pastor's Reflection for June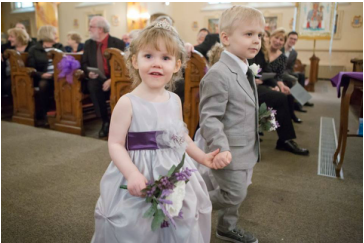 Many travelers returning from Paris, Amsterdam, Berlin, and other major European cities bring home stories of beautiful but empty churches. Today, at the beginning of the 21st century, most Europeans have become content with a largely secularized society that values religion less and emphasizes humanism. In the new secular age of Europe there has been a dramatic decrease in church attendance in countries like France, Britain, and the Netherlands, where 60%, 55%, and 48% of the population respectively never attend church. In Sweden, the government reports that 85 percent of Swedes are church members, yet only eleven percent of women and seven percent of men attend church services. In the 20 years up to 2010, the Evangelical (Lutheran) Church of Germany, closed 340 churches and is considering giving up another 1,000, "Der Spiegel" reported in 2013. Dutch churches are reportedly closing at a rate of two a week — around 4,000 remain from the estimated 19,000 built since the 13th century.

In America, the decline of religion does not appear to be as dramatic, but two studies from 2013 are showing that 20 percent of Americans claim no religious affiliation when asked to state their religious preference. The number of "nones" has doubled in the last two decades. Professor Gary Laderman of Emory University, writing in The Huffington Post on March 20th 2013, suggests that the dramatic increase of "nones" reflects profound changes in American society. He urges the reader to "forget churches, priests and pastors; forget the Bible; forget organized religion generally." The future lies in a "brave new world" of spiritual possibilities that will be increasingly unhinged from traditional religious authorities.
While decline in religious patterns amongst Western Europeans and North Americans is undeniable, I am not convinced that our future will be exclusively defined by the "spiritual but not religious" phenomenon. Relatively speaking, we have entered an era of cultural chaos. And this is mostly a good thing; our culture is far more open, democratic and just plain interesting than it was only three decades ago, and we are more accepting and tolerant in our values. But while individualism and market-based consumerism can be liberating, they can also be frightening. A steady flow of information can be exhilarating, but it can also be disorienting. And while social networks can connect us, they can also cut us off from face-to-face relationships. In short, the same culture that has disrupted our ties to the traditional and the predictable, often to good effect, has also undermined the bonds of solidarity on which we depend for stability, morality and trust. When we add to the above the economic insecurities of our age, we get a sense of just how difficult things can be for the young. Some think that the problem of modern culture is "permissiveness," but I don't agree. The problem is a culture that is wonderful in many ways but devastating in others; it frees and fascinates us while heightening our loneliness and isolation.

The future of religion will be made as people of faith engage these cultural changes in meaningful, life-giving ways. It would be possible to ignore humanists, atheists and the "spiritual-but-not-religious" and insult them as lazy, boring, individualistic or uncommitted; to call them a-moral. But what good would that do? Confirm the idea that Christians are narrow minded bigots, that's what. And others might - as a person I recently encountered suggested - want to limit the constitutional protections of religious freedom to only Christians and Jews. And what would that accomplish? A new crusade? Of course, we could always hunker down and wait for our children to get married and have families and return to church. Not going to happen. If history tells us anything, it would be that these are not good choices. Act in these ways and it will guarantee that that people will have less patience for religion rather than more.

Instead, I suggest that those of us who care about that our churches survive to the future try something new: Listen to the new voices, hear what is being said about conventional religiosity and church life, and change thoughtfully and wisely. Right now, the church does not need to convert the world. Rather, the world needs to convert the church. The unaffiliated, I suspect, would like to see a more humble form of faith from churches and denominations, an active, authentic way of life in line with biblical practices of hospitality, forgiveness, friendship, service and generosity. New immigrants, I am certain, would benefit from a display of the same! It is time for people of faith to be our very best, most creative, most open-minded, most neighborly selves, not otherwise.
​
In a world where we understand less and less about our own lives, both young and old yearn for the narratives, rituals and practices that will help us make sense of what is happening around us. I believe that the new generation of believers will do what they have always done: churches and synagogues will not be abandoned but reconfigured. Religious authority will not be discarded but rethought. And a restless, changing American young believer will, yet again, create a synthesis between religious tradition and modernity that will reshape our religious institutions and allow them to speak with new, credible voice.
​
Fr. Marek
---
Pastor's Reflection for May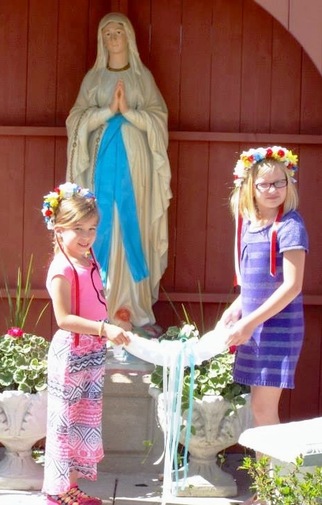 Every year we start this month with a May Crowning ceremony, honoring the Mother of Jesus as our Mother and Queen. Our beautiful statue of Mary just outside the sacristy, is honored with a wreath of blossoms to indicate Mary's virtues, virtues that are to be imitated by the faithful. In many cultures the month of May is traditionally dedicated to Mary. May is considered the season of the beginning of new life. Already in ancient Greek culture, May was dedicated to Artemis, the goddess of fecundity. In Roman culture, May was dedicated to Flora, the goddess of bloom, of blossoms. The Romans celebrated ludi florales (literally: floral games) at the end of April, asking the intercession of Flora for all that blooms. It seems that such ancient traditions of connecting May with new life and fecundity, led to a realization that May is very much the month of motherhood – this may be the reason why Mother's Day is celebrated during May not only in the United States but in many countries and cultures of both the East and the West. In the month of May, the winter comes to an end and the spring season begins (this was the official beginning of spring in Roman culture). This new beginning and new birth is a testimony to the motherhood of Mother Earth. The connection between motherhood and May led Christians eventually to adopt May as Mary's Month.

There is one more reason to associate the month of May with Mary: the feast of the Pentecost. Even though she is given only a very brief mention in the first chapter of Acts, Mary is listed with the apostles and a few other disciples who were waiting for the coming of the Holy Spirit at Pentecost (1:12-14). Saint Luke, who authored both one of the Gospels as well as the Acts of the Apostles, obviously intended the opening chapters of his Acts to evoke for his readers the atmosphere and the themes of the opening chapters of his Gospel. The Gospel begins with an account of the birth of Jesus, and the Acts begins with an account of the birth of the Church. In both accounts the Holy Spirit and Mary play significant roles.

At the Annunciation Mary had the more prominent part and the Holy Spirit was merely mentioned. But at Pentecost the roles are reversed: Mary is merely mentioned, while the Holy Spirit plays a very dramatic role. Moreover in the Gospel Mary is alone when the Spirit overshadows her, whereas in the Acts she is pictured as part of the community of disciples who receive the Spirit. At the Annunciation Mary clearly became the mother of Jesus. Through the power of the Holy Spirit there was a new creation. Out of the nothingness of Mary's virginal womb a new being was fashioned – the Word of God made flesh. At Pentecost there was another creative act of God. Something new came into being. And the agent of this new creation was the Holy Spirit, the creative power of God. Out of the confusion and fear that had gripped the hearts of the group of dispirited disciples the Spirit fashioned a united community of apostles, full of energy and zeal for preaching the Gospel. At Annunciation Mary became the mother of Christ by conceiving Him in her womb. At Pentecost there is obviously no question of a physical conception, but Mary does once again cooperate with the Holy Spirit in bringing forth a new creation – the Mystical Body of Christ, the Church. Mary's unique contribution to the conception of the Son of God was to give Him his humanity - although the Holy Spirit was the power which brought about the Incarnation of God, Mary had something to contribute which the Holy Spirit did not have. She was human; the Spirit was not. And so she alone gave human nature – her nature – to the Word of God. And "the Word was made flesh", i.e. became human. Just as the Spirit fashioned the Word in the likeness of Mary (a human being) at the Incarnation, so also the Spirit fashioned the Church in the likeness of Mary (disciple and mother) at Pentecost. Thus Mary may indeed be called Mother of the Church.

The Eastern, or Orthodox Christians call Mary the "Icon of the Spirit". The Holy Spirit is the most "invisible" of the Three Persons of the Trinity. The Holy Spirit can be detected only through his/her efforts – through the persons who are transformed by the Spirit's grace and do great things in the power of the Holy Spirit. By beholding Spirit-filled persons we can come to knowledge of the Spirit himself. An icon is a representation which although material leads the beholder to perception of divine mysteries. Similarly in beholding Mary we are led to knowledge of the Spirit.

The last glimpse of Mary we are given in the New Testament is of her in the midst of the Apostles, praying with them and receiving the Spirit. She as the mother of Jesus takes her place in the heart of the community of his disciples. This enduring memory of her has lasted down through the centuries and is still with us today. In the Church we find her and there she will always be – the perfect disciple, the Icon of the Spirit.

Fr. Marek
---
Pastor's Reflection for Easter & April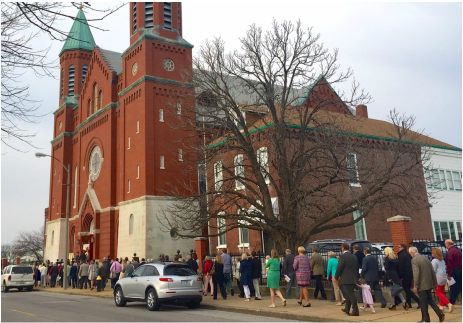 For many of us, Easter and its season is a glorious time of rejoicing in the miraculous. It is a time when we reflect not only on the event 2,000 years ago, but on the resurrections in our own lives. The day you accepted Christ. The day a long-awaited prayer was answered. The day sickness was healed or sorrow wiped away. For others, this season only serves as a reminder of various crosses. When people feel like they got left at Good Friday, weeping, while the rest of the world moved on to Easter Sunday. Some of us wish we could celebrate, but we don't know how. Some of us may have even apologized to God for our somberness in this joyous – by definition – season of Easter. If you count yourself among those in the latter group, you are not alone, I assure you. In the past few months I have watched several Good Fridays and Easters play out in the lives of those around me. Engagements and babies ushered in amid cries of rejoicing and praises to God. Yet, cancer, infidelity, and financial hardship occurred uncomfortably close to these joyful events. Most of life is like this. Happiness, unmixed, is not easy to come by. So how do we deal with this reality? How do we deal with Good Friday and Easter coexisting?
I think we start with recognizing that the first Easter, the real Easter, was not just one event in time that occurred long ago. Christ's resurrection spanned the ages and has eternal consequences. It applies to you and me today just as much as it did to Christ's followers on Easter morning. It also applies to the future. Our hope, no matter where we may be today, is in the transforming truth of Easter. Secondly, I think we need to remember that true
faith
in God does not rely on our emotions. If you cry on Easter morning because life has been wearing you down, God still accepts you. In fact, God Incarnate died and rose for you so that He could more closely walk with you through these hard times. God knows, more than anyone, the heaviness of the cross. Third, I think we need to remember that as awe-struck as Christ's first followers felt after his resurrection, they still did not know what it fully meant… for humanity or for their personal lives. While the resurrection brought their beloved Rabbi back to them, he was different now. The resurrection simultaneously healed some wounds while opening a new can of questions, insecurities, fears, and even pain - at least temporarily.
Pope Francis, at the very beginning of his pontificate, addressed this very issue. He said "There are Christians whose lives seem like Lent without Easter. I realize of course that joy is not expressed the same way at all times in life, especially at moments of great difficulty. I understand the grief of people who have to endure great suffering, yet slowly but surely we all have to let the joy of faith slowly revive as a quiet yet firm trust, even amid the greatest distress. /…/ Sometimes we are tempted to find excuses and complain, acting as if we could only be happy if a thousand conditions were met. To some extent this is because our technological society has succeeded in multiplying occasions of pleasure, yet has found it very difficult to engender joy. I can say that the most beautiful and natural expressions of joy which I have seen in my life were in poor people who had little to hold on to. I also think of the real joy shown by others who, even amid pressing professional obligations, were able to preserve, in detachment and simplicity, a heart full of faith. In their own way, all these instances of joy flow from the infinite love of God, who has revealed himself to us in Jesus Christ. Thanks solely to this encounter – or renewed encounter – with God's love, which blossoms into an enriching friendship, we are liberated from our narrowness and self-absorption. We become fully human when we become more than human, when we let God bring us beyond ourselves in order to attain the fullest truth of our being." (Evangelii Gaudium, 6-8)
As we are balancing between our own Easters and Good Fridays, we are called to believe that true Easter celebrates not only the resurrection of one person, but the resurrection of the whole human race. Perhaps this is the full meaning of the term "son of man," so important to the gospel writers: Jesus is the new generation of humanity, a new humanity, Humanity 2.0 (we might say). In Romans (8:29), Paul pictures Jesus as the firstborn "of many brothers [and sisters]," an image that expands to "firstborn of all creation" in Colossians (1:15). In passing through death and emerging on the other side, Jesus is the older brother, the pioneer of faith (
Heb 12:2
), leading the way into a new day, a new week, a new era, a new way of life, a new creation. By proclaiming Christ's resurrection now (not at the end of time), we are inviting people everywhere to join Him - in a new birth, as part of a new humanity, celebrating a new covenant, to walk "in newness of life." We are saying, "You don't have to wait for some distant future to start practicing kindness, nonviolence, reconciliation, reverence, joy, hope, neighborliness, and peace. You can leave the old humanity behind and start practicing this new humanity now."
Fr. Marek
---
Pastor's March Reflection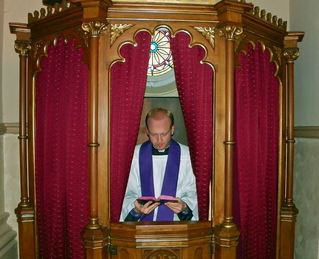 If you are blessed to have been raised Catholic, you probably remember having to fulfill the "Easter duty". We were taught of our obligation to receive Holy Communion at least once a year, at Easter time, and to make required annual confession at the same time. In Poland, Mexico, and many other countries with a Catholic majority, there are long lines of penitents waiting for their turn to enter a confessional box in every church during the last two weeks of Lent. Even though our Parish, like many others in Western countries, offers General Absolution as an alternative to individual confession, it is important to remember that the Sacrament of Penance as such is an important part of a healthy spiritual life.

Penance is often the misunderstood, forgotten cousin of the other six sacraments. Modern, more forgiving, approach to religious practices of the last forty to fifty years has been that if a person sinned, she or he was supposed to confess to God and admit that they were sorry. No more, no less. Most of us believe that our actions are between God and us, and that "it is no one else's business!" Although this is a typical position of many well-intentioned Christians, it is not the reality of the historical Church. The Sacrament of Penance has a history that goes back to Jesus and continues to the present day. Briefly put, the rite of penance developed gradually. It is based on Jesus' granting to the apostles the power to forgive sins, as recorded in the Gospels (Matt 16:19, John 20:23). During the first and second centuries, Christians debated whether a baptized person who had committed serious sins (for example, murder, adultery or apostasy) could be reconciled to the Church. In the third century, Tertullian advanced the idea of penance, which took the form of a public act of penitence. But what most Catholics would call confession did not begin in earnest until the late sixth century, when Celtic priests began to incorporate auricular confessions as part of their spiritual counseling. By 1215, theologians at the Lateran Council were reflecting and writing on the practice, which had become more widespread.

I believe that rich theological dimensions of the sacrament of penance are best revealed in the beautiful parable of the Prodigal Son (Luke 15:11-32). The story Jesus told opens with a well-to-do father providing a home for two sons - symbolic of God creating all humankind for the fullness of life. The sons live in freedom, as seen when the younger one decides to take his inheritance (the fullness of life or life itself) and leave home and his father. It is the sinner who separates him or herself from God, not God from the sinner. As the son journeys in his sinful life, he finds that it leads him not to a fuller life, but to the point of death, deserted by all his so-called friends and at the point of starvation. Finally, admitting his sin to himself, the son decides to return to the father, confess his sin, and beg to be accepted back as one of the hired servants. As the prodigal son is returning home, he finds that the father has been looking for him all along, and greets him with a loving embrace and a kiss. With the confession of sin, the father turns not to punishment or even reprimand, but orders new clothes and a feast in honor of his returned son. The older brother cannot understand the father's attitude so the father explains that the older brother has always received the live giving love of the father, and now rejoicing is in order because the brother who was dead is now alive, the lost one is found. This last part of the story is especially significant. In it Jesus reveals that God is not the author of punishment and death, but of acceptance and life. The father from this parable had always loved the sinful son. He had to wait for the son to return home, but his fatherly love was constant and unchanging. Sin, then, is its own punishment. God is never angry, but longs for the return of the lost child. In a life of sin the son was dying, but in returning to the home of the father he regains the fullness of life. God rejoices when we turn from sin and accept the full, human life for which we were created. St. Irenaeus of Lyon put it this way: "The glory of God is person fully alive!" It is therefore accurate to say that in the Sacrament of Penance the sinner returns to the God who has always accepted her or him. It is not about changing God's attitude toward us, but about us changing our hearts, about "coming home" and having our lives renewed through reconciliation with God and with our family (the Church). God's love is without condition. From this it follows that God does not punish either in this life or the next, but that sin is its own punishment, for in sin it is the sinner who departs from God and others and thus from the path of life to the path of death and destruction. God never abandons us.

The Sacrament of Penance is a beautiful and powerful sacrament. The Risen Lord and His message of love and acceptance by the Father is made present, really present through the signs of the sacrament - the person and words of the validly ordained priest or bishop. Rightly understood, the Sacrament of Penance should be seen as a gift - a gift of healing - rather than a quasi-legal process.

Fr. Marek
---
Pastor's February Reflection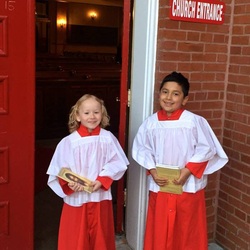 Unlike most Februarys, this one will last twenty nine days. Unlike most years, 2016 will last three hundred and sixty six days. Yes, it is a leap year! The majority of the western world follows the "solar calendar" as was implemented by the Christian Church centuries ago. It should be noted, however, that at one time the Christians, like the Muslims and Jews, followed the "lunar calendar". Today, Muslims and Jews still adhere to the "lunar calendar", whereas the rest of the world, with a few exceptions, adhere to the "solar calendar". Unfortunately, this sun-based calendar is somewhat imperfect, because the actual length of a solar year is 365.242 - not 365 days, as commonly stated. Basically, leap years occur every 4 years, and years that are evenly divisible by 4 (2004, for example) have 366 days. This extra day is added to the calendar on February 29th. However, there is one exception to the leap year rule involving century years, like the year 1900. Since the year is slightly less than 365.25 days long, adding an extra day every 4 years results in about 3 extra days being added over a period of 400 years. For this reason, only 1 out of every 4 century years is considered as a leap year. Century years are only considered as leap years if they are evenly divisible by 400. Therefore, 1700, 1800, 1900 were not leap years, and 2100 will not be a leap year. But 1600 and 2000 were leap years, because those year numbers are evenly divisible by 400. Julius Caesar was behind the origin of leap year in 45 BC. The early Romans had a 355 day calendar and to keep festivals occurring around the same season each year a 22 or 23 day month was created every second year. Julius Caesar decided to simplify things and added days to different months of the year to create the 365 day calendar, the actual calculation were made by Caesar's astronomer, Sosigenes. Every fourth year following the 28th day of Februarius (February 29th) one day was to be added, making every fourth year a leap year. In 1582, Pope Gregory XIII further refined the calendar with the rule that leap day would occur in any year divisible by 4 as described above.

From lunar calendar to a solar one, from imperfect solar calendar to the introduction of a leap year by a pagan emperor Julius Caesar, and from Julian calendar to its improved Gregorian version, introduced by a Roman Catholic pope – what an exciting journey of constant improvement, based on the wisdom of previous generations! This beautiful and organic development is not unique in the history of Western Christianity. For all its apparent dogmaticism and resistance to change, history of Catholicism can be honestly described as a never-ending update or reform of ancient understandings. Most saints and theologians were aware of this creative dialectic, or tension between authentic tradition and reform, a tension that makes Catholicism such a powerful force both intellectually and practically. One leading theologian who devoted a lot of time and research to this very subject was Yves Congar (1904-1994), a priest in the Dominican Order, prolific writer, and a very influential theologian of the Second Vatican Council. For some 13 years, he had been under heavy church discipline because of his involvement in ecumenical activity with Protestant churches. And when he published "True and False Reform" in 1950, the Vatican banned any further printing of the book and any translations of it into foreign languages. He was told all his future writings must be submitted to the Vatican for approval before publication. If you wonder why - let is suffice to say that Congar describes there two dimensions of Church's failure: Pharisaism and Synagogue. Pharisaism substitutes means to ends: clericalism which focuses on externals, rather than on the Mystery of the Church. The second dimension of failure, Synagogue, is a refusal to change when change is necessary: "an excessive attachment to historical forms that give the church its cultural expression, and are by that very fact dated and partial which can lead to an inappropriate blocking of the church's fidelity to its living principle."

This censored book became an inspiration to a future Pope John XXIII and a Council. Among the volumes in the library of Pope John XXIII, there was discovered a copy of Congar's forbidden book, heavily annotated in the pope's own handwriting. It is no wonder that Congar became a member of the council's preparatory commission at the explicit request of Pope John XXIII. And during the council itself, he was a member of several key committees, helping compose and edit eight major documents. After the council, his restoration as a respected scholar and theologian continued. In 1994, he was named a cardinal by Pope John Paul II shortly before his death. Congar was convinced that the Church, in order to conform more closely to Christ, must engage in perpetual self-reform, which is often actualized by returning to its sources. This approach facilitates an openness to change and development, while exercising a profound fidelity to the tradition. Without reform, tradition is reduced to a mere exercise in apologetics, while reform without tradition is flawed and thwarts the course of true ecclesial renewal. Must one choose, like some would like us to believe, between tradition and reform? Is it 'either or'? Yves Congar did not think so. For him, reforming prophetism and fidelity to tradition are mutually supportive; one implies the other. Reforms are needed to grow in catholicity, for we too believe with Congar that "the Church is its future as much as it is its past".

Fr. Marek

---
Pastor's Reflection for Christmas and January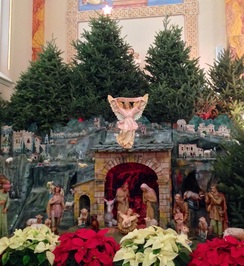 It is hard to imagine our church, or any church really, without the Nativity Scene at Christmas time. The manger, with the Holy Family at the center and several animals pushed aside to make room for a Special Guest, would be incomplete without some shepherds trying to peek in. Moreover, we see shepherd figurines in stores and front lawns, we sing about them, our children dress like them. We are confronted by the image of shepherds a hundred times each Christmas season. But do you reflect on why they are in the story? On one level, the shepherds hear an announcement, find the baby, and go back to work. As far as we know it didn't change their lives, they didn't become disciples, and there is no record of them spreading the news beyond those present with Mary and Joseph. If that's the case, why are the shepherds in the story? It would make sense to announce the birth of the Messiah to students of His coming. It would make sense to proclaim His arrival to those who had the ability and authority to spread the news throughout the world. But God didn't do that. God chose to entrust this magnificent news to a group of shepherds with no social standing and no voice in the community. Why?


Even though in many respects shepherding is a noble occupation, there is a downside to shepherding. Shepherds had a hard time maintaining religious purity as the Pharisees defined it. They couldn't keep the Sabbath because sheep need constant protection. Shepherds spent most of their time in the fields away from society and had no influence to speak of. In modern terms they were blue-collar workers largely unnoticed by those in power. Shepherds were in the lower classes of society.
God revealed Jesus' birth to the shepherds to shame the religious leaders. God, revealing such news to the shepherds is consistent with Paul's teaching it in 1 Corinthians 1:27-28: "God chose what is foolish to shame the wise; God chose what is weak in the world to shame the strong; God chose what is low and despised in the world, even things that are not, to bring to nothing things that are." You might say, but the religious leaders didn't know they were being put to shame! That's right, and the wise, strong, and favored in the world don't know it either. They are not put to shame in their own eyes, but in God's eyes.
God revealed Jesus' birth to the shepherds for the sake of Mary and Joseph. Recall that both Mary and Joseph received the news via angelic messengers. They were young, and angelic appearances were rare—to say the least. Joseph could have divorced Mary. Mary could have rejected her divine appointment. They both could have passed the visions off as wild dreams. But they both accepted the angel's message and obeyed the Lord. When the shepherds described their experience, Mary "treasured up all these things, pondering them in her heart" (Luke 2:19). The shepherds' testimony confirmed to Mary and Joseph what they had experienced themselves. Think about the grace of God in this. Have you made a significant decision - a large purchase, a job opportunity, or which school to attend - and afterward experienced an affirming sign? If we are following God's will, we don't need those signs of affirmation; but we find comfort in those gifts of grace from God.
God revealed Jesus' birth to the shepherds for my, and yours, sake. Shepherds were despised and unwanted. They lived far from the busy lives of most people of their day. They were not important — not personally, politically, or economically. If God chose to reveal his glory first to them, then the King of glory is making an important statement to each one of us personally: Jesus came for me! I am not too low, too insignificant, too unimportant, too powerless, too forgotten, or too anything for God to love me, search for me, find me, and want to bring me home.


All the Christmas celebrations will end in another week or two. We will start putting things away and our focus will turn to the changing of the calendar and then to other – more or less important - matters. Like those shepherds we will return to our lives, as they were before Christmas. I believe though, that despite going back to their daily chores, those shepherds left the Nativity scene with changed hearts. They found a joy that the world cannot deliver and cannot deny. They found a wholeness they could not achieve through counseling. They found a peace no bank account could produce. They found a love that no human person could truly offer. They found the Lord. And so can we.

Fr. Marek

---
Pastor's December Reflection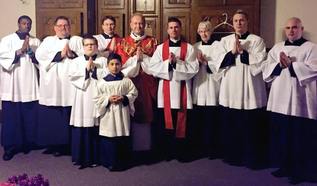 It is safe to presume that if you are reading these words in the parish bulletin, or on our church's website you are at least somewhat a spiritual person. Perhaps even a little religious. As a matter of fact, you might belong to a rapidly shrinking population of people who are both spiritual and religious! In contrast, many of your friends and colleagues prefer to identify themselves as "spiritual, but not religious." A middle-aged man who spends Sunday mornings on a golf course or hiking trail might say, "I'm spiritual ... but not religious." A young woman who says she loves Jesus but hates the church, might identify herself as SBNR. Talking heads on TV grace us with long discourses about the end of the church and the birth of a new spiritual awakening. While it is easy to label these "spiritual but not religious" individuals as choosing the path of least resistance, or dismiss their position altogether, one has to acknowledge the gravity of some of the concerns raised by the SBNR folks. Some – if not many of them – have good reason for avoiding organized religion.

Time and again, the assumption among Christian leaders, is that the key to drawing people back to church is simply to make a few style updates - edgier music, more casual services, a coffee shop in the fellowship hall, a pastor who wears skinny jeans, an updated Web site that includes online giving. But here is the thing: having been advertised to our whole lives, most of us have highly sensitive BS meters, and we're not easily impressed with consumerism or performances. What "spiritual but not religious," and millennials in particular, really want from the church is not a change in style but a change in substance. Most of our SBNR neighbors want an end to the culture wars. They want a truce between science and faith. Church leaders can't simply hand them a latte and then go about business as usual and expect people to stick around. They are not leaving the church because they don't find the cool factor there; they are leaving the church because they don't find Jesus there. Author Rachel Evans reports that many young adults are rejecting organized Christian churches for being: a) Obsessed with sex; b) Unconcerned with social justice; c) Too political and/or exclusive; d) Hostile to lesbian, gay, bisexual and transgender people; e) Unwilling to welcome people who are asking tough questions or wrestling with doubt.

If this is true about the Church, then being "spiritual but not religious" makes perfect sense. However, churches can be an excellent place to practice spirituality, if they are committed to being hospitable congregations that welcome all people with God's love and grace. Congregations are the best locations for "conversation and relationship" - activities that are critical to spirituality. Hannah, one of the very few matriarchs of the Hebrew Scriptures, proves this point in a beautiful story we find in the First Book of Samuel. Deeply upset about her inability to have children, she decides to present herself before the Lord at the temple in Shiloh, a major sanctuary of the Israelites. Distressed and weeping bitterly, she promises that if she is able to have a male child then she will dedicate him to the service of God (1 Samuel 1:9-11). This shows me that Hannah is both spiritual and religious. She trusts God deeply, demonstrating this by going to the temple and praying so intensely that Eli the priest assumes she is drunk (v. 13). She pours out her soul before the Lord, and promises to give God her son if he answers her prayer for a pregnancy. This powerful scene takes place in the house of the LORD, the setting of her spiritual life and practice (1 Samuel 1:7). She engages the priest Eli, participating in a religious activity that allows for conversation and relationship (vv. 12-18). Even though Eli is downright rude to Hannah, she doesn't take offense. She sticks around and remains engaged. In the end, Eli says, "Go in peace, the God of Israel grant the petition you have made to him" (v. 17).

Church needs to be a place where relationships with God and people can grow, whether the congregation's "flavor" is contemporary or traditional. (Recent research reveals that 67 percent of young adults prefer a "classic" church over a "trendy" one, and 77 percent would choose a "sanctuary" over an "auditorium.") Every priest, or other minister, discovers very fast that young adults will run away from anything that feels inauthentic to them, including hip new churches that put more emphasis on marketing Jesus than actually following Him. Authentic relationships are what Hannah was looking for, and what many SBNRs are hungry for as well. Spirituality grows best in community, in a network of authentic relationships. We deepen our faith when we follow Hannah to the Sanctuary and engage our fellow congregation members. When we do this, we are being both spiritual and religious, knowing that holding the two together is always the best way to grow closer to God and to each other.

Fr. Marek

---
Pastor's November Reflection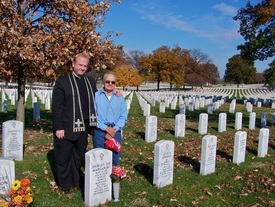 To the average person death is by no means a pleasant subject or talk for discussion. It is something dismal and oppressive - a veritable kill-joy, a fit topic for a funeral house only. And yet, in this month we remember the souls of the faithful departed and our obligation to pray for them. November and into the early part of Advent is also a part of the Church Calendar when we begin to ponder the last things: death, judgment, heaven and hell. Both here in Missouri, as well as in Poland, the days grow shorter, the once green trees and fields shed their lively green, and after the brief golden gown of autumn, a kind of death overtakes the landscape. It is fitting at this time that we ponder the passing glory of things and set our gaze on heaven where joys will never end. St. Paul wrote to the Philippians of his longing to leave this world and go to God. He was not suicidal, he just wanted to be with God: "Christ will be magnified in my body, whether by life or by death. For to me life is Christ, and death is gain. If I go on living in the flesh, that means fruitful labor for me. And I do not know which I shall choose. I am caught between the two. I long to depart this life and be with Christ, for that is far better. Yet that I remain in the flesh is more necessary for your benefit." (Phil 1:20-23)

Longing to be with God was more evident in the older prayers, many of them written just a few generations ago. Consider for example the well known Salve Regina and note (especially in the words I have bolded) the longing to leave this world and be with God: "Hail, Holy Queen, Mother of Mercy, our Life, our Sweetness, and our Hope. To Thee do we cry, poor banished children of Eve. To Thee do we send up our sighs, mourning and weeping in this valley of tears. Turn then, most gracious Advocate, Thine Eyes of Mercy toward us, and after this our exile, show us the Blessed Fruit of thy Womb, Jesus. O clement, O loving, O sweet Virgin Mary." The prayer acknowledges in a very realistic and sober way that life here can be very difficult. Rather than ask for deliverance from all of it, for this world is an exile after all, the prayer simply expresses a longing to come to heaven and be worthy to see Jesus. It is this longing that I sense is somewhat absent in our modern world, even among regular Church goers.

These days, almost no one publicly speaks of their longing to depart this life and be with God. I suspect it is because we live very comfortably, at least in the affluent West. Many of the daily hardships with which even our most recent ancestors struggled have been minimized and even eliminated. I suppose that when the struggles of this life are minimized, fewer people consciously long to leave this world and go to heaven. Most of us set our sights, hopes and prayers on having things HERE be better. "O God, please give me better health, a better marriage, a financial blessing, a promotion at work…." In other words, "Make this world an even better place for me and I'm content to stay here, rather than to long to go there to heaven." We all have a natural fear and aversion to dying. But for a Christian there should be a deepening thirst for God that begins to erode the fear and aversion to death. St. Francis praised God for Sister bodily death which no one can escape (Canticum Fratris Solis). And why not praise God for it? It is what brings us ultimately home.

As for me, I will say that more often than not I am ready to leave this world and go home and be with God. I am not suicidal and I love what I do here. But I can't wait to be with God, to experience directly God's love and presence. I don't mind getting older as I used to, because it means that I'm closer to home. Another day's journey and I'm so glad, one day closer to home! In our youth centered culture people are encouraged to be anxious about getting older. As for me, most of the time I'm glad to be getting older. God is trying to make me wiser and God is preparing me to meet God face to face. I can't wait.

Fr. Marek
---
Pastor's October Reflection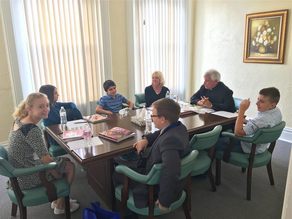 Roman Catholic bishops and cardinals, all of them single, are meeting this month in the Vatican to talk about the pastoral challenges of the family in modern times. Excitement and anticipation for this "Synod on the Family" have been high, partly because of the mid-term report released by the same bishops in October last year. In its most controversial sections, this Pope approved report asked whether "accepting and valuing homosexuals' sexual orientation" could align with Catholic doctrine; proposed allowing Communion for divorced-and-remarried Catholics on a "case-by-case basis"; and said pastors should emphasize the positive aspects of lifestyles the official Roman Catholic teaching considers gravely sinful, including civil remarriage after divorce and premarital cohabitation.

As exciting as those conversations amongst bishops and cardinals might be, I would like to focus our attention this month on a virtue that is foundational for every family, and even for every healthy relationship: TRUST. It goes without saying that marriage involves ultimate trust. And to most people, that generally means you are faithful to one another: no flirting, no affairs, no extra-marital intimate relationships. Certainly, respecting the bonds of marriage is a big part of trust. But complete trust involves much more than that. Complete trust means that we are secure - we can rest easy in the presence of one another. We can be ourselves and are comfortable that our imperfections will not be held against us. We feel loved, admired and honored. It means that my thoughts, my dreams, and my fears are safe with you. It means that I am not judgmental, even though I know your weaknesses. It means that we are careful of what we say to each other and about each other to other people. It means that you don't belittle or make fun of me, even under the guise of "teasing", especially when you can see that your words/behaviors are bothering me. It means that my actions and decisions take your feelings and opinions into account. It involves mutual respect, so that when we disagree, we discuss the issue like mature adults, realizing that each partner's position is vitally important.

Trust is built one decision at a time. And it takes longer to build trust than it does to break it. Trust can be broken in just an instant! One mean, spiteful or demeaning word. One selfish, uncaring action. One instance of disrespectful behavior, and you can undermine years of trust. Trust can also be broken by pursuing selfish desires. By putting work, friends, and activities ahead of your relationship. Self-destructive addictions and behaviors will breach trust. But so will playing golf every Saturday while your partner is left at home. Working late, night after night, missing dinner with your spouse. Putting what you think is right ahead of what your spouse believes, time after time. Withholding affection. Making unilateral decisions without open, honest mutual discussion. Refusing to compromise. Acting superior, smarter, or more worldly. Refusing to admit when you are wrong. Comparing your spouse to others. Denying forgiveness. Being overly critical or stern. Refusing to communicate. Being controlling. All these things can erode trust.

Partners in successful marriages, members of healthy families, figure out how to navigate through these challenges. They keep God and the relationship at the center of both of their lives. Too often, we make the mistake of maintaining our individuality at the expense of the relationship. This is just as toxic as the converse - maintaining the relationship at the expense of the individual. To achieve long-term happiness, a balance is crucial. Being able to trust one another makes it possible to have those sometimes difficult discussions - those times when you have to communicate that your needs are not being met by your partner. If there is no environment of trust, constructive comments will be interpreted as character assassinations. If your partner, child, parent, or close friend, feels that you might hurt them, as you may have done before, then they are much more likely to be defensive rather than open and accepting. Trust becomes the very foundation upon which a healthy relationship is built.

No matter how hard you try, there will be times when you feel as if you and the person you love are moving in two different directions. Therefore, it is very important that when you feel yourselves getting off-track, to stop and take some time to reconnect. Some people call it "circling the wagons" and I think that is a very good description of what we need to do to protect our relationships. Tune out the rest of the world for awhile and concentrate on each other. Admit when you are wrong. Be "humble, gentle and patient", and forgive easily! These behaviors, practiced regularly, will help you to maintain focus and preserve the TRUST that is necessary for a long and happy life together.

Fr. Marek


---
Pastor's September Reflection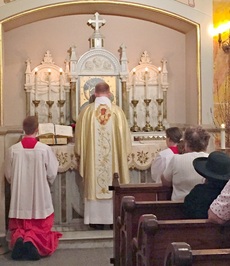 During my sabbatical time in the Holy Land I had a chance to visit many ancient churches, some even 1,600 years old! Many of them, especially those belonging to various Orthodox communities, are filled with countless icons and the constant aroma of burning incense. To people who are used to modern church architecture in Europe and North America, such a sensory experience can be a little overwhelming. On more than one occasion I overheard bored Westerner tourists, as they were complaining about those sacred places being "much too churchy" for their liking. Such, and similar comments made me wonder: is it possible for a church to be "too churchy" - either in an aesthetic, or theological sense? Should churches, in an effort to reach the proverbial "modern man", become less churchy and more "Starbucksy"?

Imagine you are sitting in a donut shop. You have been here many times and nobody has ever complained about this place, saying, "this donut shop is too donutty." It is a donut shop; so you expect it to be donutty. No one ever said that a sporting event was too sporty, a library too booky, a concert too musicy, an airport too planey, a home too homey, a college too schooly, or a hospital too hospitally. Yet, some people do say, "that church was too churchy." But what else should it be? Why the double-standard? Why do we condemn the church for being too much about Jesus, God's unconditional love, your soul, spirituality, heaven and hell, grace and sin, right and wrong? We surely do not complain that a donut shop offers Boston Crème, cinnamon buns, apple fritters, cream sticks, jelly filled, glazed, and blueberry cake…

Because some churches are listening to this sort of cultural critique, it can become quite ridiculous. Since some churches actually believe that they should not be churchy, they try to hide their spiritual donuts, if you know what I mean. Participants can attend, be fairly comfortable and entertained, without being confronted with too many "Godly" matters like justice, solidarity with the poor and the oppressed, or even the fact of our own mortality. Then, right at the end of the service, a little "Jesus" is slipped in. But that is like going to a hospital, only to have the doctors and nurses pal around with you, never addressing your physical condition; but right at the end, when you are about to go to your car, some nurse's aid slips a little medicine in your pocket, with an apology! All this time you needed surgery and an IV, but they were afraid of upsetting you. They were afraid to tell you that some of your organs are failing, or that you need to change your unhealthy habits. They did not want to appear arrogant, even though they were the only ones in town with the cure.

The Church does nobody any favors when it refuses to be churchy. We are not called to be a social club, even though we love having fun and spending time together. We are not called to be a bar, even though we enjoy a drink or two after (not instead) of Sunday Mass. We are not called to be a tourist bureau, even though traveling with your church buddies is really fun. We are not called to be another Starbucks, movie theatre, or country club. The Church needs to be churchy, and it must do churchy things with enthusiasm and vigor. I will never convince you of the goodness of something so long as I hide it from you. If I want you to grasp the beauty of Bach's cello suite No. 1, then I must play it for you. We – the Church, the Body of Christ, must not hide our scriptures, our sacraments, our worship, our preaching, our service, our call to solidarity and equality, our lament, or our joy in Jesus. "But what if people don't like us?" I hear. Simple fact that someone does not like you, is not a good enough reason to change who you are. Now, if you're a jerk that loves to cause constant "drama", then - by all means - stop being a jerk. But, do not stop being the Church. You were baptized to be churchy. You are called to be churchy. So stand firm. Be churchy. Be Jesusy. Be the light of the world.
Fr. Marek

---
Pastor's August Reflection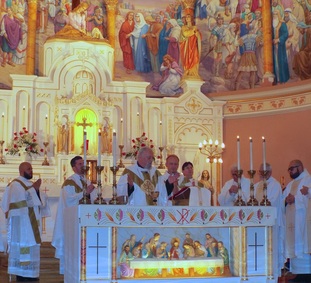 Perhaps the one great insight that distinguishes Catholicism (and the other apostolic Churches of the Orthodox and Anglican traditions) from all other branches of Christianity and all other faiths is the sacramental principle. We as human beings – body and soul – come to God precisely through our humanity in a profoundly material world. It is through the material world, and not in spite of the material world, that we connect with the spiritual realities. In the previous two months we were reflecting on the symbolical meaning of our body language (June) and material elements used (July) in the course of Catholic liturgy. It is time we talk about the visible church and its "furnishings".
The CHURCH BUILDING itself is a powerful symbol. The actual building is a visible expression of God's abiding presence amongst us. The church gets its name from the people who gather in it. The 'church' is actually the People of God gathered, and the building is the place the People of God gather to worship and encounter God in the special sacraments and rites celebrated inside.
ALTAR. The Catholic altar is both a sacrificial altar, and a table for a communal meal. In Jesus's time, altars where animal sacrifices took place as atonement for sin were common under Jewish norms and traditions. The passion of Christ was the ultimate sacrifice, to atone for the sin of all humankind. Therefore, the Christ's sacrifice is made present to us each Mass at an altar. The altar is also a table because we are all "called to the Lord's supper." The sense of the Catholic altar as a table calls to mind the last supper and the tables around which the early Christians celebrated the Eucharist, as well as the fact that we as a faithful community are sharing in the saving meal.
Connected to this symbol, there are SACRED VESSELS such as a communion cup, called a chalice. This cup is often of exquisite beauty and design and is to hold the wine that will become the Blood of Christ in the celebration of Eucharist. A bowl or beautifully designed plate or bowl with a lid (called a 'ciborium') holds the bread that will be blessed to become the Body of Christ. Worthy and beautiful objects are suitable to show the importance of the things they contain. The cup symbolizes the covenant God makes between humans and God's-self.
LECTERN (also known as an AMBO): The word lectern comes from the Latin word meaning 'to read'. The lectern is a reading table, especially that in a church from which the readings of the Holy Scriptures (the Bible Lectionary) are read. This is also known as the "Table of the Word (of God)." The alternate word for this table is the "Ambo" (coming from the Greek word meaning a Pulpit, which itself is a Latin word meaning 'a platform or stage' from which a sermon or homily or reading is proclaimed).
PRESIDER'S CHAIR is not merely a convenient place where a priest sits when not doing an element of the ritual. The chair represents the role of the priest as the leader of the worship of the community, and his or her pastoral care and responsibility for the people. The bishop has a special chair in his or her main church and this chair is called a Cathedra (Greek for 'Chair'). This chair symbolizes the leadership the Bishop has over the whole area and his or her care for the people and authority. The church where the bishop's chair is located is called a "Cathedral" (which literally means 'the place of the chair'). So a cathedral is not defined by its size or impressiveness but actually by the fact that it is the church where the 'seat of authority' of the Bishop (the Bishop's chair) is located (literally!)
TABERNACLE: This word comes from the Latin meaning "tent" or "little booth." In Catholic churches, the 'tabernacle' is a beautiful, ornate box or container, (usually made out of brass or another strong and worthy metal), which ought to be securely bolted down and locked. This container is where the remains of any blessed and consecrated hosts (communion wafers) are stored. The Catholic Church teaches that the bread and wine used at Eucharist, (Mass), once blessed and consecrated in the ceremony, is and remains the Body and Blood of Christ, in the form of what looks like and tastes like and has the chemical make up of bread and wine. Since it remains the body and blood of Christ, any unconsumed hosts (bread) and precious blood (the blessed wine) must either be consumed after Mass or the hosts can be stored in the tabernacle. When there are blessed hosts in the tabernacle there is usually a red light beside it to indicate that there is the presence of the consecrated elements within – that Christ is present in the sacrament. People pray before this tabernacle and reflect quietly on the mystery of Christ's presence in the Eucharist. This secure tabernacle is a proper place to store the blessed hosts so that they can be accessed and taken at any time to give to someone who is sick and in need of the Eucharist for spiritual strength. The tabernacle used to be always positioned on the high altar at the very centre of the sanctuary. Some churches – like ours - still do this. Other places have a special side altar, or sacrament chapel specially designed for private prayer and reflection and people can sit or kneel in front of the tabernacle and pray and meditate.
The CRUCIFIX, (that is a timber or metal cross with the image of the Crucified Lord Jesus on it) is an integral visual symbol of almost every Catholic church. The Crucifix is often positioned in a very central position somewhere over or near the Altar, or on the sanctuary area. The Crucifix is a central symbol because it is a visual reminder that God loved us so much that He sent his only son to die for us, so that we might have life through Him. The suffering and death on the cross is a profound mystery of God's love, God's justice, and God's forgiveness. We Christians believe that the Crucifixion of Christ, which seemed to be a humiliating defeat in the eyes of the world, is actually the victory of God over sin and death. God (in Jesus) took onto himself everything bad that the world had to throw at him and crucified it, defeating it with the self-sacrificing love of the cross.
Fr. Marek
---
Pastor's July Reflection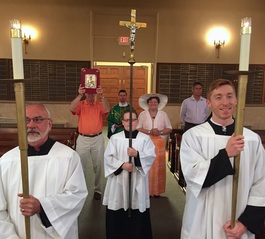 As a Church we have a 'language' that helps us put expression to the moments of grace that mark our lives. This language is expressed in symbols and rituals (which are beyond words) and also, of course, in words that help us communicate the mystery of our relationship with the Divine. This is the language of the liturgy. In June we focused on liturgical 'body language' and this month I would like us to reflect on material, or tangible 'stuff' used in Catholic worship.

BREAD AND WINE. Wheat is grown and ground, transformed by human work to make bread. Grapes are grown and crushed, transformed by human work to make wine. It is traditionally the work of human hands. Bread is life. Wine is joy. The sharing of food and drink is often linked with peace-making and the resolution of differences. From the earliest of times, human beings have shared meals together. The very act of eating and drinking together is a symbol of fellowship, common life, common love. In biblical times, people ate everything from the same plate. People ate using flat bread which served as a 'spoon' dipped into the communal dish. Sharing food in this way increased the sense of solidarity and fellowship among those eating it. They became, in a sense, one body. The breaking of the bread was the ritual gesture that established communion among those at a table in a Jewish ritual meal. The Last Supper was such a meal. Jesus identified the broken bread and poured wine with his own Body and Blood, broken and poured out in his suffering and Death. After his Resurrection, Jesus' disciples spoke of recognising him in the 'breaking of the bread'. The 'breaking of the bread' eventually came to describe the whole action of the Eucharist after the time of Jesus. FIRE/LIGHT. In the Old Testament, fire is a symbol of God's purifying presence. In the biblical narratives we read of Moses before the burning bush, intensely aware of the presence of God. We read of the Hebrew people journeying through the desert, led by a pillar of fire by night. In the Bible, transformation is nearly always manifested by light, In the Old Testament, Moses is transfigured. In the New Testament, Jesus is transfigured, shining brighter than the sun. This 'shining' signifies the radiance of God's presence. In the New Testament also, the flames of Pentecost are a symbol of the presence of God transforming the lives of Jesus' disciples. We too will be transformed. At Baptism we are given a lighted candle to symbolise the light of Christ. This is the transforming light of faith that drives out the darkness of despair. And we are commissioned to keep this light burning brightly throughout our lives.
CANDLES are used in Catholic worship to represent the light of Christ. The Sanctuary candle, which is extinguished only on Good Friday, is a reminder of Jesus' real presence in the Eucharist housed in the church. During Mass, candles may be held on either side of the Priest as he proclaims the Gospel. At least two candles are placed on or near the altar.
WATER plays an important symbolic role in Catholicism. We dip our fingers in holy water upon entering the church building, water is poured over a baby's head during the baptism ceremony, and it is usualy sprinkled on the persons and objects that are being blessed. Water is a traditional sign of life and cleansing and it has a long standing tradition of use in liturgies. References to water abound in Scriptures and water continues to play an important role in the symbolism used by the modern church. During Mass, at the time when the Eucharist gifts are brought to the altar, the priest makes offertory prayers. The priest pours wine and a few drops of water into the chalice - it represents the water that flowed from Christ's side during the crucifixion; the wine represents His blood. The use of a mixture of water and wine symbolizes also the two natures of Christ - human and divine.
OIL. For the Jewish people, our ancestors in faith, anointing with oil meant setting the person apart for a particular mission. Just as royalty and Priests are anointed for a particular mission, so are we as Christians given a particular mission to be Christ in the world today. The word Christ means the Anointed. We call ourselves Christians because we are anointed in Baptism. We are the community anointed to continue the work of Christ, the anointed one.
INCENSE is a mixture of resins such as the resin of pine trees. Historically, incense was used to overcome unpleasant odors. In the Old Testament incense is a sign or prayer of adoration. The early church initially rejected the use of incense because of its association with pagan rites. The Eastern (Orthodox) churches were the first to use incense as an expression of joy. When burned on a piece of lighted charcoal, the incense ascends as a fragrance. Thus it is a beautiful symbol of the human spirit rising to God in prayer.

Christianity in general, and Catholicism in particular, does not reject material world and physical objects as "evil" or lesser than its spiritual counterpart. To the contrary, we believe that all of God's creation is good (see Genesis 1:31) and thus, what is material can be used in our spiritual journey. Nowhere else is it more evident than in our beautiful, Catholic liturgy. Next month we will focus on sacred architecture and liturgical furnishings as means of communicating, and bringing closer, the realm of God's presence.

Fr. Marek

---
Pastor's June Reflection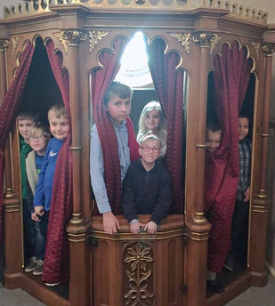 Science has its own language; the arts have another. Religion uses the language of the arts, for it uses signs and symbols, like bridges from the visible to the invisible. The symbol is not an object of worship but invites us to worship. It leads to an encounter with the divine. The language of symbols is more universal than the language of words in expressing faith. In the next few months I will dedicate this page to a short explanation, or perhaps a "refreshment course" of the many symbols we employ in Catholic worship. Let me begin with liturgical "body language."
When a non-Catholic attends the Mass for the first time, chances they notice this: on cue, people stand up; they sit back down; they kneel; then they stand…. The curious onlooker might wonder what is the "secret code" that Catholics flash to one another, to achieve such uniformity in such complex circumstances. But do all of these postures have meaning? Well, yes. When we stand, or kneel, or make the sign of the cross on our foreheads, lips and hearts, we are saying something about who we are, and who God is, and what we believe. Let us have a short refreshing "talk" about some of them:
STANDING has been a common posture for communal prayer since the early Christians. It is a sign of respect, and can also be a wordless symbol for the Resurrection. Catholics may sit while the two readings from the Old Testament and from the New Testament Epistles are read; but we always stand for a reading of the Gospel, in which are found the words of Christ Himself.
KNEELING is a sign of humility. It is a common posture for personal prayer and worship. Catholics kneel during the Eucharistic Prayer, that central point during the Mass when God comes down to us, when the Eucharist is transformed into the Body and Blood of Christ. There are a few instances when kneeling is not convenient during the Consecration–say, when it's an outdoor Mass and the rain is falling and the ground is a muddy mess; or when a particular parish has not made provision for the comfort of worshippers by installing kneelers. In those cases, it may be appropriate to stand through the Eucharistic Prayer, while making a profound bow - especially during the Consecration.
BOWING is a sign of profound reverence. We stand during the recitation of the Nicene Creed, which is a profession of our faith; but we add a bow of the head when we remember the Incarnation, saying: and by the Holy Spirit was incarnate of the Virgin Mary and became man. We also bow when we go forward to receive Holy Communion. The Church asks that we express our reverence at this time with an outward symbol. That can be kneeling (if there is a communion rail), genuflecting (dropping onto one knee) or, in most cases, a profound bow of the head as one approaches the priest or extraordinary minister of the Eucharist to receive the Body and the Blood of Christ.
THE SIGN OF THE CROSS is a simple ritual which expresses our prayer that the Trinity - God the Father, Son and Holy Spirit - will be with us. We sign ourselves at the beginning of a prayer, and again at the end. We dip our fingers into the holy water font, then make the Sign of the Cross with the blessed water. At the beginning of the Gospel, we use our thumbs to make a small sign of the cross on our foreheads (asking God to help us understand the Word), on our lips (that we might speak the Word), and on our hearts (where we will store the Word and ponder it).
There are other actions which are performed by the priest or deacon, and which also express what we as Catholics believe: THE LITURGICAL KISS; the priest and deacon kiss the altar at the beginning of Mass because it symbolizes Jesus Himself. The same with the text of the Gospel: after the priest or, if present, the deacon reads the Gospel, he or she kisses the sacred text. Kisses show up at other times: during Good Friday services, for example, when the faithful process forward to kiss the feet of Jesus on the crucifix. LYING PROSTRATE or face-down on the floor is a sign of complete surrender to God. During the liturgy of Ordination, candidates about to be ordained to the diaconate, priesthood, or episcopate lie prostrate in the aisle as the Litany of the Saints is recited or sung, invoking the prayers of all the saints for their ministry. On Good Friday, this dramatic gesture is used by the priest and deacon, who lie before the altar.
In July we will look more closely at the material "stuff" we use in Catholic Liturgy – things like bread and wine, water, oil, fire, candles, incense, etc. Meanwhile, enjoy our newly fixed kneelers...

Fr. Marek

---
Pastor's May Reflection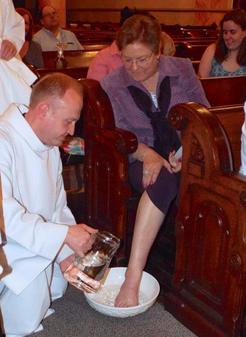 Many of us remember the most recent "Jubilee Year" in the Catholic Church – it was celebrated during the entire year of 2000. The colorful "Jubilaeum AD 2000" logo was everywhere, parishes incorporated special prayers into their Masses, and we had a year of prayer and reflection for the threshold of the new, third millennium of Christian faith. The holy doors in Roman basilicas, and in many cities throughout the world, were opened to usher in the year of graces and then closed at the end of our observance. And now, on March 13th, Pope Francis made an unexpected announcement, declaring that the Church will celebrate an extraordinary jubilee year from December 8, 2015 to November 20, 2016. It is to be a Holy Year of Mercy. As has become his style, he took everyone by surprise and the formal, "official" announcement took place on Divine Mercy Sunday (April 12th). This surprise Jubilee Year will formally begin with the opening of the "Holy Door" in St. Peter's Basilica on December 8, 2015 – which is also the 50th anniversary of the end of the Second Vatican Council.

The origin of the Christian Jubilee goes back to Bible times. The Law of Moses prescribed a special year for the Jewish people: "You shall hallow the fiftieth year and proclaim the liberty throughout the land, to all its inhabitants; it shall be a jubilee for you when each of you shall return to his property and each of you shall return to his family. This fiftieth year is to be a jubilee year for you: you will not sow, you will not harvest the ungathered corn, you will not gather the untrimmed vine. The jubilee is to be a holy thing to you, you will eat what comes from the fields. In this year of jubilee, then, each of you shall return to your own property." (The Book of Leviticus 25, 10-13) The trumpet with which this particular year was announced was a goat's horn called Yobel in Hebrew, and the origin of the word jubilee. The celebration of this year also included the restitution of land to the original owners, the remission of debts, the liberation of slaves and the land was left fallow. In the New Testament, Jesus presents himself as the One who brings the old Jubilee to completion, because he has come to "preach the year of the Lord's favor" (Isaiah 61: 1-2).

This newly announced Holy Year will be an "extraordinary" jubilee year, meaning it falls outside of the regular rhythm of jubilees celebrated every quarter century. The Catholic tradition of jubilees began in 1300 under the reign of Pope Boniface VIII, who decided jubilees would be celebrated once every 100 years. This was changed to once every 25 years in 1475 to allow for every generation to celebrate at least one Holy Year. It was "designed" as a year of forgiveness of sins and also the punishment due to sin, a year of reconciliation between adversaries, and consequently of solidarity, hope, justice, commitment to serve God with joy and in peace with our brothers and sisters. On an occasion of an event of particular importance, an extraordinary jubilee may be announced. The last extraordinary jubilee took place in 1933 and 1983, to celebrate the 1900th and 1950th anniversaries of the death and resurrection of Jesus.

From his first moments in office, Pope Francis has been loudly proclaiming a consistent message of hope that stems from mercy: one that emphasizes God's great capacity for love and never-failing desire to forgive. Aboard the papal plane on the return flight from World Youth Day in Rio de Janeiro in August 2013, Pope Francis stated: "I believe that this is the season of mercy. This new era we have entered, and the many problems in the Church - like the poor witness given by some priests, problems of corruption in the Church, the problem of clericalism, for example - have left so many people hurt, left so much hurt. The Church is a mother: She has to go out to heal those who are hurting, with mercy. If the Lord never tires of forgiving, we have no other choice than this: first of all, to care for those who are hurting. The Church is a mother, and she must travel this path of mercy. And find a form of mercy for all."

I could not agree more. The Church today, seemingly more than ever, is called to be the "field hospital" that reaches out to all who are suffering, marginalized, bullied, and rejected. In all honesty, this is precisely the same mission I have been trying to implement at St. Stanislaus since my very first day here. We should all join with Pope Francis as he makes it the mission of the entire Catholic Church.

Fr. Marek

---
Pastor's April Reflection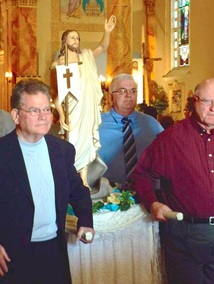 When we come to church for Sunday Mass we are always presented with three readings from the Holy Bible: the first one is usually taken from the Hebrew Scriptures (Old Testament), followed by a Responsorial Psalm. Second reading is typically taken from one of the Epistles of St. Paul, or other New Testament authors. Finally, a passage from one of the Gospels is proclaimed. This well established "order of appearance" is suspended starting with the Easter day all the way until Pentecost. For these fifty days the first reading is always taken from the book of the Acts of the Apostles.

Acts is a unique book in the New Testament. The Gospels tell the stories of the life and ministry of Jesus, and the epistles are letters circulated among the first communities of believers. But the Acts of the Apostles recounts the stories of the spread of the Christian faith from Christ's disciples in Jerusalem, to most of the ancient world. Not precisely history in the modern sense of the word, Acts was written by the evangelist Luke. He was able to tell a good story which brings to life individuals and events, but his knowledge was limited by the sources and traditions available to him. Nonetheless the information he gives is useful background to the letters which St Paul had written thirty years before. We understand Paul's letters to the Thessalonians, the Corinthians and the Ephesians all the better for knowing the account Luke gives in Acts. His 15th chapter concerning the so-called Council in Jerusalem is a valuable supplement to what we read about early Christian controversies in Paul's letter to the Galatians.

Luke's Acts of the Apostles is also a work of theology. The theology we find in it may not be of the depth which Paul provides in his Letters or John in his gospel, but it is a sound theology which offers an appropriate guide to Christians in that world, whether they were of gentile background with their multiple idols and many gods, or of Jewish ancestry who valued the revelation of their scriptures. Out of several possible topics, I would like to comment Luke's view of the sacraments, which continue to nourish the Church in our own day.

The Acts of the Apostles assists us in understanding something about Baptism and Eucharist. The repeated mention of baptism in Acts reminds us of the antiquity of this sacrament. When the crowds on Pentecost day asked Peter what they should do, he replied that they should repent and be baptized (2:38). Obviously this practice was well known to Luke's first readers, although he never explains the significance of baptism as did Paul, who likened it to going down into the tomb with Christ (Romans 6:3), or John who compared it to being reborn from above (John 3:7). It is also in Acts that the Church finds the origins of the Sacrament of confirmation: the relevance of the outpouring of the Holy Spirit on the first disciples at Pentecost (2:4), a similar outpouring in response to their prayer under persecution (4:31), and again in Caesarea after the conversion of Cornelius, is obvious (10:44).

Likewise we find a number of references in Acts to the 'breaking of bread', almost certainly a reference to the Eucharist. The reader knows all about this from Luke's account of the Last Supper (Luke 22:19) and from his description of the meal Jesus took with the two disciples on the Emmaus road, when 'he had been known to them in the breaking of bread' (Luke 24:35). In Acts, Luke did not need to elaborate on the meaning of this 'breaking of bread'. He records that the Christians in Jerusalem continued the practice (2:42). So did Paul in Troas when the community met 'to break bread' (20:7,11) and in the presence of 275 fellow passengers in a storm on his voyage to Rome (27:35). Through this 'breaking of bread', the Lord became especially present to them.

One way to look at the Acts of the Apostles during the Easter season is to see it as a call to "go back to the future." That is to say, the Church today needs to relearn lessons that have been part of our history since the beginning. If you have an hour or two this Easter season, you might try reading the Acts of the Apostles in one sitting. It's the best way to get a sense of the entire story. In many ways, it's still our story, as we work to carry out the same mission given to those first believers. During the fifty days of this Easter season, the Acts of the Apostles should give us hope that the Holy Spirit will continue to guide the followers of the Risen Lord.

Fr. Marek

---
Pastor's March Reflection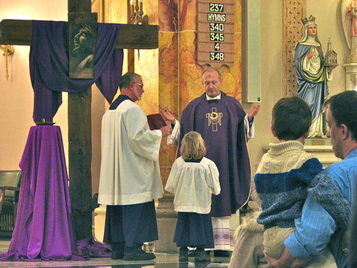 In our northern hemisphere the liturgical season of Lent overlaps with the muddy and messy season between winter and spring when mud covers everything. Our dirt roads turn to mud, our shoes are coated, and our pant cuffs show tell-tale signs. The mud gets everywhere. The ground freezes in the winter and it is still not thawed when the piles of snow start to melt in early spring. The water has no way to go back down into the ground, so it stays on the surface, mixing with the dirt and making a mess of everything. That is fitting for Lent, which most years conveniently overlaps the mud.

Lent is a season in the Christian liturgical calendar beginning forty-six days before Easter Sunday (called Ash Wednesday). In the early church, it started as an expansion of the fasting period required for catechumens (those being prepared for baptism) before they were baptized - usually on Easter. The forty-six days are taken from Mark's Gospel (1:13) where Jesus fasted and was tempted for forty days after his baptism. The six extra days account for Sundays on which Christians are not to fast because Sunday is the Lord's day. The Lord's day is considered a day of celebration as it was the day of Christ's resurrection.

In Lent we face the parts of our spiritual life that are the messiest, thickest, and the most inconvenient. We often find that even if we can hide the mess from others, we can not hide it from ourselves. Like mud, it gets everywhere. It is the mud season of our souls. The time when we look deeply at what is inside of us, and start to find the places that we are trying to keep frozen and impenetrable to God's grace. We all have them. They are filled with fear, anger, prejudice, resentments. It is easier when we keep them hidden and frozen because we know that once they see the light and start to melt we will not be able to control the fallout. I think that is why we are often so reluctant to really dive head first into Lent. Deep down we know that letting God into the deepest parts of our soul can make things messy.

It is not surprising that Christians are so wary of the mess. We learn it from the very institutions dedicated to nurturing our faith. In the church we often prefer the neat, bright, and convenient to the reality that life is messy, and hard, and imperfect. We err on the side of keeping the surface clean, rather than digging deeper. It is why many churches do not talk about the hard stuff. It is why instead of having honest, life-changing, deep discussions, we often dwell on what is easy to agree upon, or what is so inoffensive to anyone that it is uninspiring. Most churchgoing people do not want to talk about addiction, or depression, or economic justice, or inclusion of LGBT people, racial injustice, or any other topic that might cause division, even though there are many for whom talking about any one of those things would be a lifeline. Instead they create a church culture that is the spiritual equivalent of keeping up appearances. Many people have come to believe that church is a place where we want you show up in your Sunday best, rather than with mud on your shoes. I think that is one reason churches are a lot more packed on Easter morning than on Good Friday, or any other day of Lent. We have taught church goers that we know how to find God on the best of days. But we rarely talk about how to find God on worst of them. Which is why maybe we need the mud. Maybe we need the mess. Maybe we need the season where on the surface everything looks like it is going to hell, but deep down we are opening ourselves up to something new.

Lent can be good for the church. It can be the time when hearts thaw the way the earth does, old barriers to God's love melt away, what's unknown is allowed in, and new life emerges in us all. I believe that we, at St. Stanislaus, are becoming a place that does not shy away from acknowledging the messiness of the spiritual life. We strive to be the church that journeys with parishioners as they go through their own spiritual mud seasons. And these parishioners become the ones who turn that place into something vital. Something life-giving. Something that has a lot to do with Resurrection.

Fr. Marek
---
Pastor's February Reflection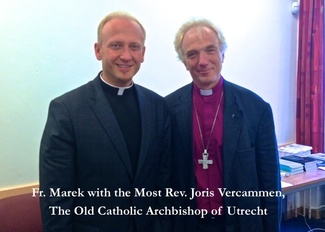 Many of our guests, and even some recent members, have been wondering how is it possible that "we are so Catholic without being Roman." It has been a while now since I addressed this issue directly; it might be a good idea to explain the "Old Catholic" or "Independent Catholic" phenomenon – for some it will be just a refreshment, while for others it can be a new discovery. The fact is, the Old Catholic movement is the best kept secret in Christendom. The mere existence of a valid form of Catholicism that is independent of Rome and that values local control seems scandalous to some and causes delight or even relief to others. The Old Catholic churches have branches all over the world. They constitute one of the most interesting and diverse movements in Christian history, a movement worthy of greater visibility and study.

Old Catholicism is based on Christian community life as it was practiced in the early, unified Church. The first historical event that gives Old Catholics their distinctiveness is the first schism in Christian history: the split between the Western (Catholic) and Eastern (Orthodox) churches in 1054. Until that time there was only one Church and it was led by five patriarchs: the bishops of Jerusalem, Antioch, Alexandria, Rome and Constantinople. On rare occasions they would gather together with other bishops to consider major questions of faith. Unfortunately, the schism of 1054 ended that unity. Four of the five patriarchs would lead what is now the Eastern Orthodox Church. One patriarch, the Bishop of Rome, became head of the Roman Catholic Church. The roots of what is now the Old Catholic Church are in the Roman Church.

At first, the Roman Catholic Church followed many of the practices of the early Church. For example, the local bishop had a great deal of discretion as to liturgy and other aspects of Church life. Indeed, Rome allowed many sees (jurisdictions of Bishops) to elect their own bishop when a vacancy occurred, just as the early church had always done. As time passed, though, and the papacy became as much a worldly political power as a spiritual one, the popes ended these practices and denied the rights of bishops. There was one bastion of the old ways, however: the See of Utrecht in the Netherlands. This came to be known as the "Old Catholic" Church. Adhering to the old ways, the Church of Utrecht persevered and flourished independent of Rome. It maintained the Apostolic Succession in its successive bishops. In 1870, Utrecht became the nucleus for reform. In Rome that year, the Pope declared himself infallible and that his decisions did not require "consent of the Church." Many Roman Catholic bishops (with Archbishop Kennrick of St. Louis being one of the most outspoken critics of the new dogma) argued that this was not how the Church had been governed by the Apostles and early church leaders. They also protested other changes in dogma since 1054. Those pastors and parishes who could not, in good faith, accept the new dogmas appealed to the Archbishop of Utrecht who consecrated the first bishops for these communities. Eventually, under the leadership of the Church of Holland, these Old Catholic communities joined together in 1889 to form the Utrecht Union of Churches.

Old Catholicism has an ecclesial structure similar to the Roman Catholic Church (excluding the position of pope) including dioceses with full participation of clergy and laity. The archbishop of Utrecht is an honorary position and does not carry the same authority as a pope or archbishops within other traditions. Old Catholics believes in unity in diversity. As a result, more diversity of belief and practice is to be found among its churches than is characteristic of the Roman Catholic or the Eastern Orthodox churches. And thus, while most Old Catholic churches ordain women, some do not; many perform same gender marriages, while others do not allow it; some have open communion policy, and some are more restrictive in this regard. Even though there is no official branch of the Old Catholic Union of Utrecht in North America today, many independent Catholic dioceses and parishes in this country, ours included, recognize the European Old Catholic movement as its model and source of Apostolic Succession.

Fr. Marek

---
Pastor's Christmas Refelction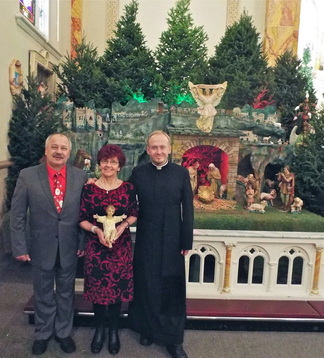 Most churches, ours included, see their attendance increase during the Christmas season. Pastors wonder sometimes, why many Christians only come to church around this time, but I believe it is because we love the story of the baby Jesus born to Mary and Joseph, cradled in a manger, endangered by Herod, visited by shepherds and kings. We are not drawn to churches by dogmas, but by the story - the biblical narrative, particularly the narrative about Jesus.

Human beings, it seems to me, require myth as one of the basic necessities of life. Once we have our air and water and a bit of food, we turn to metaphor and myth-making. Myth is not a story that is untrue, but a story that carries a deeper truth that draws us in. As a 5-year-old once said, a myth is a story that is true on the inside. Reading the stories carefully suggests that the authors themselves did not intend these as historically factual accounts. Both Matthew and Luke wrote their Nativities as parables and overtures. The Christmas story, as we think of it today, is 95 percent Luke and five percent Matthew. Really, the only thing that comes from Matthew is the incident with the three magi. Like a symphony overture, those Nativity stories encapsulate the theme of the coming Gospels: for Matthew, that Jesus is the new Moses; for Luke, our obligations to the poor and outcast and the presence of the Holy Spirit. And like Jesus' parables, they are stories intended to convey lessons. What are those lessons? That Jesus is the light in darkness and fulfillment of humankind's deepest yearnings.

The stories of Jesus' conception and birth (for Matthew and Luke present us with two, quite distinct accounts) spark our imagination and speak to our creative minds. In "Care of the Soul", Thomas Moore suggests that imagination is one of the most underutilized and undervalued spiritual gifts. So I invite you to put yourself in the story of Jesus' nativity. Jesus is not simply born to Mary. He is born to us, if only we use our imagination!

Are you King Herod, fearful of losing power or privilege as God is doing a "new thing"? Or an Eastern sage enduring academic malaise, seeking a star of inspiration? A shepherd routinely going about your business when the skies seem to open up? A prophet crying in the wilderness? Are you a religious leader holding on to tradition at all costs? An empire's bureaucrat missing the unfolding human drama? Or one whose life is too full to welcome a homeless, unwed mother-to-be? Joseph, serving quietly on the periphery of sacred drama? Mary, with an unsought calling to do the dirty and painful and lonely work of birthing a new movement? Or a vulnerable child born into a vicious and violent world? Truth is, over a lifetime, we may play all of these roles in this story. Good to remember, at this time of year, that we hinder or help, blink or behold this nativity of God's Word to us.

One more thing. I imagine that most of us put up our Christmas trees, and get out our ornaments, and trot out tidings of peace on Earth. Then, after a week or two after Christmas we take down those trees and put away our ornaments, and peace on Earth goes back into storage until the following year. And it seems that life goes "back to normal" with all the worries, indifference, tension, and even violence. This year, perhaps, keep one ornament out somehwere, where you will see it every day. May it remind you to be a "person of good will" so that God's peace remains with you beyond this Season.

Fr. Marek

---